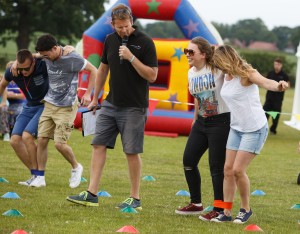 FAMILY-owned and run motor retail group, Swansway, held its annual summer fair recently, with 500 of its 700 staff enjoying a day out at Sandbach FC in Cheshire.
With laser clay pigeon shooting, archery, mini golf, funfair stalls, ice-cream, candy-floss and a barbecue, it was a day to remember, with the school sports day theme embraced with gusto.
Taking part in the human table football competition were teams from across the group, with the final a very hard fought affair between Swansway Honda Manchester and Crewe Audi. The Honda site ran out the winners.

Swansway director David Smyth said: 'This was our third summer fair, designed to give our staff and their families a great day out and yet again we were lucky with the weather.
'The school sports day theme was so much fun, with loads of staff taking part in egg and spoon, sack, three-legged and Space Hopper races.
'Sitting at 34 in the Sunday Times top companies to work for list, Swansway is renowned for its family atmosphere and focus, so the sports day theme was ideal. Judging by the enthusiasm of those taking part, it was definitely a hit.'
As usual, the Smyth family directors put themselves in the stocks for charity, inviting staff and family members to throw wet sponges at them in return for a donation to local charity, the Lorraine House Refuge.

Our picture shows fun in the three-legged race with marketing executive Holly Bailey and Jane Hargreaves, the brand manager for Wrexham Volkswagen, taking part with enthusiasm.
MORE: CAP points to consumer demand keeping depreciation steady
MORE: Moves to get school pupils behind the wheel to learn the basics of driving
MORE: Staffordshire dealership expands with record-breaking Kia
On SuperUnleaded.com: Watch Tom Cruise destroy a BMW M3 in the name go Hollywood