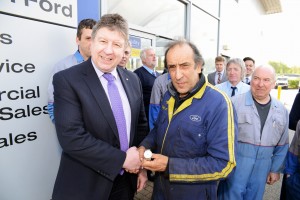 A TECHNICIAN who has clocked up 50 years loyal service has finally called it a day.
Steve Singh retired last month after working as a Ford technician in Taunton for half a century.
He started as an apprentice straight after school with Ford dealers, White Brothers, in Taunton on August 10, 1964.

Staying with the car brand throughout his career, Singh progressed through the bodyshop before returning to Eastreach. He then moved to the Rapid Fit centre in Cornish Way before moving to the Taunton Ford main workshop at Priorswood.
'It's rare to find such exemplary loyalty from an employee with regards to both the company he works for and the customers he serves although we are lucky to have a good number of long-serving employees across the Group,' said Kevin Graves, service director of Foray Motor Group, parent company of Taunton Ford.
'Steve's success is down to his thorough knowledge of the product and his ability to connect with people. Even now, I have a running joke with him when he pretends to find a loose thread on my tie.
'There's a certain degree of informality but, at the same time, we all know that Steve has the knowledge and ability to solve service problems and keep customers on the road.

'It would be impossible to work out how many Somerset motorists Steve has helped during his half century but there must be a considerable number who owe him an unknowing debt of gratitude for keeping them mobile. We will all miss his presence in the workshop.'
Singh, who received an engraved watch from Taunton Ford on his retirement, will now be working with a different type of horsepower, at his stables.
He said: 'I haven't made any real plans for retirement but I'll be able to spend more time with my wife Jackie, our two daughters, and the horses so it will be a great time.'