IN HIS own words, IAN CALLUM, design director of Jaguar, discusses turning the brand around and looks ahead to the next chapter. As told to James Baggott . . .
When we set about designing a Jaguar, we set off with blinkers on – this is how it's got to be. We have to be focused on what we're going to do and I don't let my team get too influenced by what's happening outside.
They do sometimes, that's only natural, but I'll go and see what they're doing and have my say. If I don't like a line, it's coming off. I'll tell them so. I have those conversations often with my team who'll tell me that so-and-so manufacturer is doing this or that – but I don't care about them, we're not doing it if it's not Jaguar.

Designing a car is a rigorous process. Anything that's beautiful and looks easy has to be really rigorous – and I think we've got that as one of our key strengths. I train my team to look at our cars as if someone else has designed them. I tell them to critique them as if another manufacturer had bought them in for us to rip apart, and rip them apart we do.
That can be really hard. It's like trying to modify your children, but we're empowered to do that and because I'm not designing every element of it, I'm directing – and I give quite clear direction – it's easier for me to point out bad lines.
I don't care whether someone has worked three days or three weeks on something – if it's not good enough for Jaguar we're going to change it. That doesn't mean we're not friends – we are. We're a great team and work well together.
Being a designer does make day-to-day life quite tough, though. I find it incredibly hard to buy things. I went to buy a new kettle and toaster the other day and I wasn't looking for ones that just did the job, they had to look right too, they had to match and they had to be right. I bought two white Bosch examples. They're beautifully designed, the same colour and the details match. These little things matter.

I struggle buying furniture too. In the old days when IKEA was the only option I was reasonably happy about it. It had a fundamental function and wasn't offensive. But these days I find my choices are limited in the UK. There aren't enough people with good taste to go and buy great things, so the good shops fail.
I really admire Apple, but then, who doesn't? I know Jony Ive quite well and we talk about design a lot. I know he appreciates what I do and that's reassuring as he is a perfectionist. There are few companies as advanced as Apple in terms of a combination of design and technology. They are out there leading the world.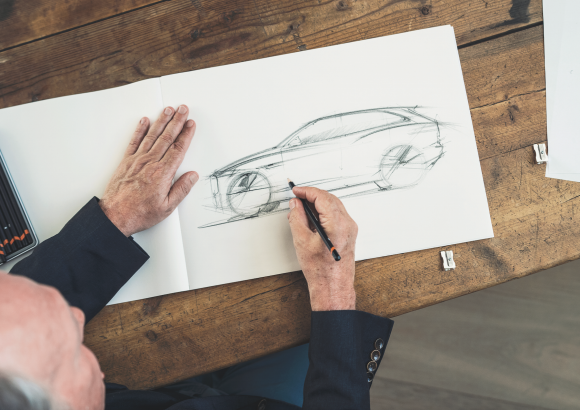 I like Dyson too. Some of their products – the fans, for example – are just beautiful things. I'm actually looking forward to the next generation of Dyson vacuum cleaners because design- conscious, beautifully thought through technical genius is super in my book.
One of the first things I ever drew was a Hoover. I did that at three years old, copying it and drawing it and being very conscious of the fact it had specific things about it that were designed. I decided then, at three, that I wanted to be a designer.
By four I knew I wanted to be a car designer. I used to sketch cars all the time – it's like my career path was written for me. On my first day of school I turned up and presented the teacher with a picture of a car I had designed and told her I was going to be a car designer. She gave me a pat on the head, and told me to shut up and sit down – I remember it very clearly indeed.
My favourite car is a 250 SWB Ferrari. There's just something about it that I think is so animal- like, but at the same time beautiful and elegant. I think it's the most fascinating and balanced car. I drove one that belonged to a friend of mine – it was the old Stirling Moss car, number 7 that won the TT Trophy. That was very special.
Of my contemporaries, there are few that I admire. I don't mean that in an arrogant way, but I'm particularly stuck in my own way with what I think good design is. I appreciate what Audi does, that's for sure. They have acleanliness and purity that I respect. If we were to have one benchmark it would be that brand over all others. But personally I also like Porsche, even the funny ones like the 914.
I don't really have an average day. I probably do have an average week, though. Monday tends to be very focussed on business as we have the big meetings then. Wednesdays and Thursdays are set aside for design, pure design. I spend as much time with my team on those two days as I can. It's pretty rigorous and scheduled as that's the only way I can really make things happen, but I go into the studio first thing in the morning, walk around and take in what is happening. It's important to say hello to people.
The team design using incredible pieces of kit. They're drawing on electronic sketch pads and have three or four screens around them – it's like something from Star Trek.
What used to take me a couple of days they can do in minutes, but I still like using good old- fashioned pen and paper. I can take a picture of a sketch on my iPad and send it to them. I love problem solving this way.
I'm incredibly proud of turning Jaguar around. I would like that to be the one legacy I leave behind. Moving it from the old man's, conservative, retrospective brand which it should never have been to something that's now relevant, something that people want and something that has therefore made the company a great success. I think it has helped ensure Jaguar's survival, because for a long time it was on its knees. Part of that problem was it was in the wrong era.
Now it's all about the next chapter. We've got to a point where I wanted to be, especially with the launch of the new F-Pace. The circle's closed. Now we have to move to another era, a new circle, and I challenge myself as to what that will be aesthetically and product-wise
We're going through that process right now. We can start to almost reinvent ourselves. I can't see what that's going to be just yet because we're just starting to go through it and you'll see some changes over the next generation of cars.
If I was asked to pick one Jaguar that I personally see at the centre of Jag, it would have to be the F-Type. That's the one I think that stands for what Jaguar is, and the rest proliferate from that, because that's where we started – sports cars.
I do enjoy my job, I really do, but there are certainly parts that I don't. But I guess because the good bits are so good the difficult parts are even more difficult, but that's the sacrifice you make.
I still wouldn't have it any other way.
I even designed the Ford Escort Cosworth
People don't realise that I designed the Ford Escort Cosworth. It was my son's favourite car when he was aged about seven or eight and he had a big picture of one on the wall – but I didn't tell him I designed it until he was about 15 years old.
I remember being given the parameters for the whale tail and just went with it. I don't own one, but I wouldn't mind one, that's for sure. They are going up in value now. I had a Sierra Cosworth as a company car then, but never an Escort.
I also did the Puma, the Volvo C70 and had a hand in the Rover 75 Estate. The latter I never liked, but it was a job I had to do.