Driving to the tip was a moving experience
I HAVEN'T moved home in years. There was a time when I moved six times in three years and became quite a pro at it. Boxing stuff up, shovelling it into a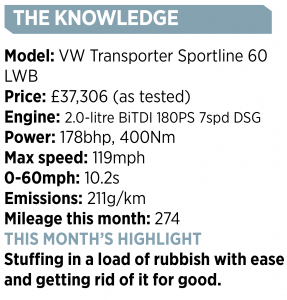 van and carting it somewhere became second nature.
Fast forward seven years andI've moved again but this time I decided to do things differently. I got a man in. Well, what I really mean is several real men. Burly fellows with muscles, boxes of their own and a ruddy big white truck.

And this frankly left me at a bit of a loose end – and for the first time in my moving career, I even had a van at my disposal. Our Transporter has had an easy life so far, carting Nigel around and his video kit, so over the past few weeks I've made it do some hard graft. Okay, so it didn't have to shift boxes of toys and the washing machine, but it did have to help by making many, many trips to the dump. Old carpets, tables and lots of garden waste were stuffed in the back.
I'd had a bit of a downer on the Transporter. It always felt very van-like to drive while the leather seats and body kit made me think of it as a car. But back in its natural habitat it was in its element.