I've just found out how much I've been missing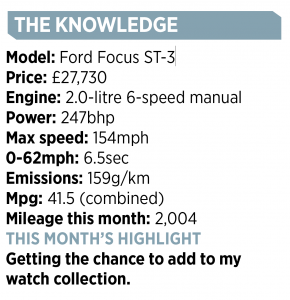 THE ST has been on our fleet a few months now, but as I've been treated to the luxurious comfort of the Audi S7 I haven't spent much time in it. Until now, that is.
And, you know what? I've been missing out. After just a few miles in the ST I realised just how much fun I'd been unintentionally avoiding. And it wasn't just me, either – ops director Andy texted me with three words one night after borrowing the keys to get home: 'ST is brilliant!'

I had a MkII Ford Focus ST as my own car for three years and loved it. But boy did that thing drink the fuel. While the new model is thirsty too, it's more Diet Coke in comparison to the full fat older model. It's considerably better to drive too. The noise may be slightly artificial but it's equally addictive and the lively steering and whiff of torque steer make it just as entertaining.
It's a comfortable car too. The Recaro sports seats I found to be extremely supportive.
Meanwhile, Ford heard how much I was enjoying the ST and sent me the official ST watch. It's actually rather smart but at £165 I think I'd rather spend the money on a few more tanks of fuel! Far more fun…