It made moving in with the in-laws so easy. But I'm not sure whether that's really a good thing…
LAST month it was our Outlander's seven seats that came in handy, ferrying family and friends here, there and everywhere.
But this month I've gone in the opposite direction and turned the 2.2 diesel into a sporty two-seater. Okay, maybe not that sporty, but a two-seater nonetheless.

With our house renovations reaching a point where we've been forced to decamp to the in-laws, the spacious Outlander has proved to be more useful than a Swiss Army knife.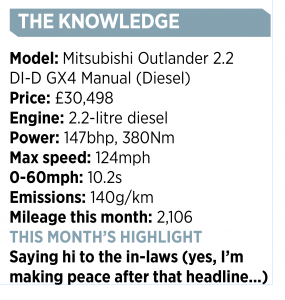 Working out how to fold down the middle row of seats isn't the easiest thing in the world, but after resorting to asking my local dealer to show me how it's done, the back suddenly became a cavernous space ready to swallow as many RSJs and bits of plasterboard as you can chuck at it.
In fact, the floor of the vehicle is 1.69m long with the second and third row of seats down, 335mm more than the previous Outlander.
Away from the ongoing DIY joy, the Outlander has been a good companion on the long journeys. It feels powerful when accelerating from low speeds or pulling away, while the handling is good, with a comfortable ride.

The interior on our model is attractive, with black leather seats offering a quality feel.
Mitsubishi is renowned for its 4×4 capability and reliability and the Outlander enhances this reputation while adding a level of refinement. Across the range there's plenty of standard safety equipment and the knowledge that it received a five-star Euro NCAP safety-rating.