Sat-nav struggles, but a really sound performer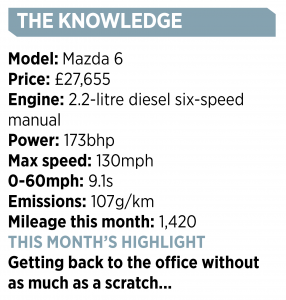 IT'S been a busy month for the Blackball video department, and where normally we share the VW Transporter team bus, this month we've had to split up for different shoots.
Where Nigel has been in the Ford Focus ST, I've been entrusted with looking after the director's long-term Mazda. No pressure there then. The last time I drove a Mazda 6 was on our road trip to Austria earlier this year and that was the more spacious Tourer model.

I had fond memories and was looking forward to getting back behind the wheel of one. I was a little disappointed with the sat-nav, though, which had to be registered with a dealer before use. Other than that, there was little to grumble about. The M25 slog was made easier thanks to the decent Bose sound system.
The cabin is a nice place to be, and the engine delivers decent performance without the need for regular fuel pit stops. My normal runabout is a Mini Clubman JCW, which makes parking a doddle, but despite the extra size of the Mazda, it was pretty straightforward too, thanks to all-round parking sensors and reversing camera.
by Glenn Winhall