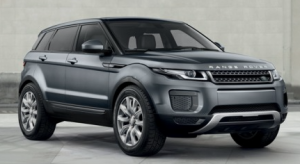 TOP-END Range Rovers with keyless ignition systems are being targeted by thieves.
It is believed gangs can unlock the cars using a hand-held device, and are stealing the high-end cars to order.
According to the Metropolitan police, more than 300 RangeRovers have been stolen in London since January. That compares to 63 BMW X5s and Series 3 models.

In Brighton, 10 Range Rovers have been stolen recently.
Some insurers are so worried by the spate of thefts they are making off-road parking a provision when they agree to cover these vehicles.
The Times is reporting that an owner of a £100,000 Range Rover was refused insurance cover unless he had underground parking.
This is likely to make secure parking even more attractive to wealthy homeowners in central London, says The Times. Two underground lock-ups were recently on the market for £400,000.

In a statement, Jaguar Land Rover said vehicle theft through the re-programming of remote-entry keys was an on-going problem which affected the whole industry.
'Our line-up continues to meet the insurance industry requirements as tested and agreed with relevant insurance bodies. Nevertheless we are taking this issue very seriously and our engineering teams are actively working in collaboration with insurance bodies and police forces to solve this continuously evolving problem. This has already resulted in a number of prosecutions,' said the statement.
The SMMT, the trade body for manufacturers, said that it was working to develop preventative measures against theft.
'Over the past two years, many vehicle manufacturers have released a series of software updates to help combat keyless vehicle theft and stay one step ahead of thieves,' it said.
MORE: SMMT stalwart receives MBE
MORE: Our Andy's a judge at the inaugural CitNOW Video Awards
MORE: Heavy fines for car dealers who sold a dangerous vehicle
MORE: The fun of #CDX15 in pictures
On superunleaded.com – Nissan's 360 Degree Lap Of Le Mans Will Make You Feel A Bit Sick