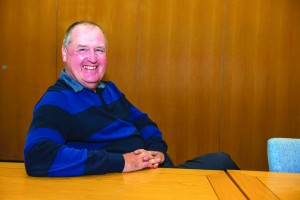 FIRST of all, can I introduce myself – I'm the new editor of CarDealer. The very new editor – I sat down at my new desk in the newsroom for the first time only yesterday morning.
And second of all, can I thank all of you for all the good wishes that were waiting for me when I logged into my email account at [email protected]
We have plans to make this website even more interesting and more informative – but more of that in the days and weeks to come.

I am a newbie when it comes to the auto industry. I've driven lots of cars in my time as a journalist, and some very nice ones at that – the Rolls-Royce I had for a while springs to mind.
I can still remember the face of the PR executive when I climbed out of my little supermini to get behind the wheel of the Phantom, which had so many bespoke bits and bobs attached that it was worth a touch over £350,000.
'Please bring it back in one piece…' were the last words I heard as I tried to wheelspin it away from their West Sussex headquarters…
Before the manufacturers start quivering when they send us their shiny new cars to test, don't worry, it was returned in pristine condition!

And as a newbie, I want to know what YOU want to see on this site, and in our magazine.
I hope some of you use the forum (the link to it is at the top of this page) to make your comments. We constantly monitor what you're writing about. Don't tell the boss, but a lot of your ideas have made great features in the magazine – that will continue, the only difference being that I'm going to claim the best ones as my own in our news conferences…
If you're shy and don't want to write on a public forum, feel free to ping me an email.
If there's something you feel we should be sorting out, or investigating, or highlighting, please drop me a line.
No idea is a daft idea. And if it's a corker – well, just be prepared for me to take the credit…
I should sign off by wishing you all a Merry Christmas and a prosperous new year. But I'm a grumpy old whatsit and it's still only early November – far too early to be thinking of Christmas. Just don't get me started on why shops started playing carols and festive tunes when we were still in October….
Colin Channon
Twitter: @colinchannon
Email: [email protected]