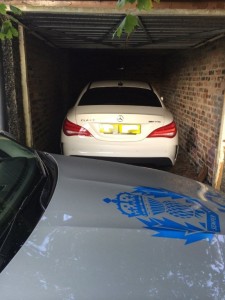 A MEMBER of staff at a Mercedes-Benz dealership in central Scotland got a nasty surprise when he woke up to see that a demonstrator vehicle he'd been allowed to take home had been stolen from his drive.
Fortunately, the AMG Mercedes, worth more than £50,000, was fitted with a Tracker stolen vehicle recovery unit, which was key in helping police recover the car before the end of the same day.
As a result of the lucky escape, the Mercedes-Benz dealership is rethinking its security to ensure all demo vehicles are fitted with the latest products from Tracker. The car stolen from the dealership employeee was a Tracker Plus for Mercedes-Benz unit.

Thieves broke into the employee's home via a bathroom window, to find the keys to the Mercedes-Benz which was parked outside, before driving away with it in the early hours of the morning.
When the member of staff woke up and found the vehicle missing, he contacted the police and the Tracker was activated. Before the end of the day, police found the vehicle, which was hidden in a garage in Glasgow.
'The whole team breathed a huge sigh of relief when the stolen vehicle was found,' explained a  representative from the unnamed Scottish dealership.
'We had only recently decided to fit Tracker units on demo vehicles worth £50,000 or more. If any of our lower-value vehicles had been taken, they might never have been recovered, leaving us with a serious loss.

'This incident has demonstrated the value of Tracker Plus for Mercedes-Benz and we are now fitting all our demo vehicles with these SVR units.'
Adrian Davenport, police liaison officer for Tracker, said: 'This was clearly an organised criminal gang, stealing to order. They must have seen the car on the drive and burgled the house for the keys. We found the vehicle in a container, ready to ship and sell overseas.
'This case highlights the value of having a Tracker fitted.'
MORE: Mazda's small off-roader, CX-3, unveiled in Los Angeles
MORE: Bristol Audi serves up a treat for the new TT