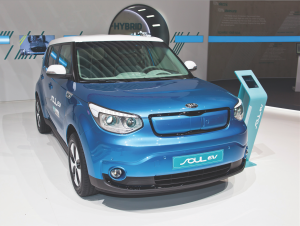 KIA is making a foray down Electric Avenue with its upcoming Soul EV, and it's 'a fantastic piece of technology,' according to Paul Philpott.
It seems that the manufacturer isn't alone in holding the car in high regard with the New York Daily News describing it as a 'compelling alternative' to the Nissan Leaf, Ford Focus Electric, and Fiat 500e and praising it as 'funky and functional'.
'It is absolutely right for a certain group of customers,' Philpott told us.

'The range is 120 miles. It drives beautifully, with very smooth acceleration. But EVs are not for everybody. We want to start with relatively limited volumes, through a select network of dealers who are EV specialists and who will provide the right level of service and understanding to potential customers.
'We should never get into a situation where we're forcing people into new technology if that new technology is not right for them. Unless you do lots of short journeys, the technology is not right for you.
'We've got to preserve the integrity of our first foray into the EV market with Soul EV by keeping volumes low to start with and progressively building them up. Next year we're only looking at a volume of between 100 and 200 units.
'If demand takes off beyond that, and the satisfaction from customers is very high, then we'll go into battle to get some more. But I'd much rather start low, build up an order bank and supply to order, rather than have very ambitious plans that lead us fighting to find the right customers and trying to squeeze people into something that's not right for them.

'If we did that, we'd damage the reputation of EVs generally and there are some manufacturers who have done that over the past year.'
MORE: New Kia Soul electric vehicle will be available through 13 'specialist' dealers
MORE: Car Dealer Used Car Awards 2014, sponsored by Black Horse: the shortlist revealed
MORE: Honda dealers retain the most routine servicing for eighth year running