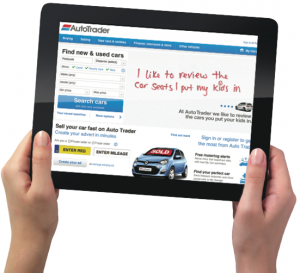 PRESENT your wares to as many buyers as you can, and make it as simple and straightforward as possible for them to get involved – even in the dead of night.
Have you heard the latest buzzword being used to define the most technologically sophisticated generation in human history? 'Millennial' – strictly speaking an adjective relating to a period of 1,000 years – is regularly used as a tag in the media to define a generation of consumers 'growing up bathed in bits', as author Don Tapscott put it in his book Growing Up Digital.
Those of you with children will understand. You will have seen how readily youngsters who have barely learnt to walk embrace an iPad, gaming device or (their parents') smartphones. For them, this is the norm. And the rest of us had better get used to it.
Of course, most of us have done precisely that. We too have been seduced by the speed and ease with which an iPhone or iPad can deliver a localised weather forecast, a new Gucci handbag or a BBC news report, all at our fingertips and in the dead of night if required.

The seduction is no different for car buyers. And those who question this statement need only look at their own patterns of buying behaviour, as well as the joy with which most car transactions are completed, to argue themselves out of the 20th century.
A significant shift towards mobile use shouldn't surprise us, but the pace of change in the past few years has probably been more significant than most people had forecast, thanks to the proliferation of smartphone ownership and cheaper tablet devices.
The latest figures show that of more than 160 million Auto Trader searches made in June, 63 per cent of traffic came to the site via a mobile or tablet, up from 53 per cent a year earlier. That's quite an increase.
Of the total non-desktop searches, 20 per cent were made on tablet and 43 per cent via a mobile phone. The lion's share of tablet traffic (85 per cent) came from Apple iPad users, while the overall rise in tablet use took the figure up from 16 per cent market share last year.

What does this tell us? Well, two things: one that relates to automotive as an industry and one that should act as a clarion call for today's digital dealers. In the context of internet use generally, automotive is blazing a trail.
In March, Google predicted that mobilesearches would outstrip desktop in December. But for Auto Trader this so-called mobile tipping point took place in May 2013, 20 months earlier.
Secondly, and forgive the dreadful pun, these latest figures should really mobilise you into action. For they show that a mobile-optimised site isn't just a nice-to-do; it's an absolute imperative to capture Generation M – another of those annoyingly snappy media tags.
If consumers are using their mobiles to search, then it stands to reason that a mobile-optimised site is what you need to present the goods in your shop window to as many buyers as possible, in a format that works for them.
Of course, successful selling is just one of the pillars of any profitable automotive business, complementing buying, managing and marketing. But standing out from the crowd in an increasingly crowded market place should be a fundamental goal. And a fully-optimised website should be the starting point.