CUSTOMERS who choose to buy a Hyundai or Smart car can now do so from the comfort of their own homes and have it delivered to their door.
Today both manufacturers launched new websites that take customers from the start to finish of the buying process, called smartcarsonline.co.uk and 'Click to Buy'.
Currently the Hyundai i10, i20, i30, Tucson and Santa Fe are available to order on Click to Buy, while the Smart website has pre-configured Smart ForTwo and ForFours ready to buy.

Although both these websites allow buyers to purchase a car online, these are very different offerings. Smart's website gives you a quick turnaround, with a new car delivered to your door in as few as 12 days. Customers will also only have the option to buy on finance, which is broken down into three simple options, and once they are approved they are guided through the simple buying process.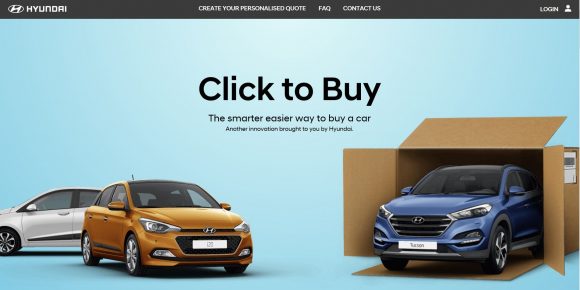 Hyundai's offering also includes the option to trade in your existing car and the choice for customers to pay cash if they prefer, although there is still the option to finance your new car. The websites also give car buyers the choice of collecting from a dealership or having the car delivered to their home.
Head of Smart in the UK Krishan Bodhani said: 'Almost anything can be bought online now and we're delighted to offer this option to our customers when purchasing their smart. It's really easy to do and is extremely time-efficient, enabling a customer to make a reservation, fill in a credit application and sign a contract at a time and place that works for them.'
Tony Whitehorn, President and CEO of Hyundai UK said: 'I'm incredibly excited to launch 'Click To Buy' today, our new website which allows customers to buy a new Hyundai completely online through our entire dealer network across the UK. The site is simple, intuitive and importantly can save customers valuable time – in fact if you're paying by cash, the entire online process is possible to complete in about the same time as it would take to refuel your car. Through fixed pricing, the site also removes the need to negotiate which is a real benefit for those who feel uncomfortable doing so or simply don't have the time. Customers can even have their new car delivered straight to their front door – now that's convenient!'

He added: 'Consumers today demand choice and simplicity; they already expect to be able to buy a car in the same way that they'd be able to purchase their clothes or electrical goods online. This is a pivotal time for the car industry as a whole and the start of what I think will be a transformative period in terms of how people buy and own cars going forward.'
MORE: Kia Sportage is the fastest selling used car of 2016
MORE: March 2017 will be the biggest car sales month ever
MORE: Best-selling car manufacturers of 2016 are announced
On SuperUnleaded.com: Ferrari-Engined Toyota GT86 Hits The Track For The First Time