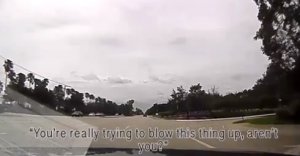 VALET parking is always a bit of a worry for drivers who are fond of their cars.
Will their pride and joy be properly looked after? Will it be returned in good order with no bumps or scrapes, knocks or scratches?
Unfortunately for one US motorist, things turned out far worse than that when he took his Mustang in for a service at a Ford dealership in Florida.

Identified only as MacAbuzer on YouTube, the car's owner writes: 'I had a small knock from the top of my engine, maybe carbon build-up. The mechanic, instead of treating with chemicals (protocol), decided that it would be easier to run my car in first gear for 5 miles at redline.
'He discusses with another mechanic in the car how he would like to either fix it or blow it up. My expensive Shelby CS1 wheels were damaged along with the transmission during the time they had my car…'
Not good. And the ordeal for 'MacAbuzer' didn't end there. He had to enter long and protracted negotiations with the company to get repair work done. And the last we heard, the issue was in the hands of his lawyers…