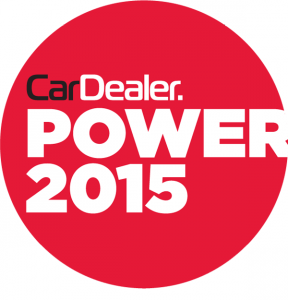 FOR the manufacturers and suppliers who triumph at the annual Car Dealer Power Awards, there's no mistaking the pleasure and pride they feel at having done well in our annual survey.
For those unfamiliar with the thinking behind Car Dealer Power, it's the poll that gives YOU, our loyal readers, the chance to have your say on the manufacturers and suppliers you do business with on a daily basis.
It will only take you a minute or two to complete but time is running out! The closing date for receipt of completed application form is March 31. You can fill the form out online – it's by far the quickest and easiest way to make your views known and become a valued part of Car Dealer Power 2015.

And please be assured, your voice really does count! The two manufacturers who came out on top last year were Kia and Hyundai.
Kia was the number one manufacturer, with MD Paul Philpott picking up the trophy from Car Dealer editor James Batchelor. Philpott said: 'This is a great achievement for us. It's the result of seven or eight years of hard work to get to Manufacturer of the Year at the Car Dealer Power Awards.'
Also enjoying a moment in the spotlight was Tony Whitehorn, boss of Hyundai in the UK. The manufacturer claimed the Car of the Year spot with the i10.
Whitehorn told us after last August's ceremony: 'It's a fantastic accolade for us to win this award. I think what's really great about it is that you've got the customers who say they love the car; you've got the manufacturer who says they love the car; but this is probably the only award where you can say, the dealers love the car.'

So get voting by clicking here! And make sure your voice is heard this year.
PS: It's completely anonymous so you can be as frank as you like!