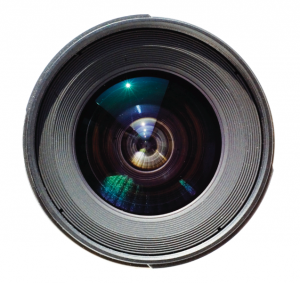 It can seem a big expense but as the cost of production comes down and the benefits in SEO go up, James Baggott investigates why you need to consider video for your dealership
YOUTUBE has some startling facts about car buyers and their consumption of video in the decision-making process.
Nearly half of all buyers take the time to watch a video of their potential new car online before they go out and buy it and some 96 per cent of them have a positive perception of them.

And the medium is moving fast in the automotive world. YouTube found that buyers are likely to demand video more and more – a staggering 78 per cent of new buyers and 74 per cent of used said they would watch car videos before choosing what to buy next.
'Dealers should be using video to educate users on niche products and features, to influence the purchasing decision, to complement offline advertising, to share customer opinions and reviews, and provide video tours of their sites,' Scott Sinclair, automotive specialist for Google, told Car Dealer. 'Video content should be used to inform and educate the customer as much as possible. The use of video going forward will only increase in importance as customers use the internet during the research phase of buying a car more.'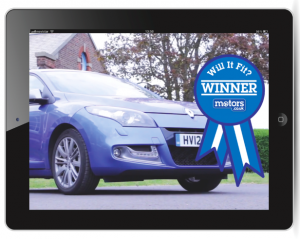 A number of dealers are dabbling in video these days. From large groups showcasing their sites and deals online with glossy productions to smaller independents trying their hand at overviews of their cars themselves. However, many are turning to professional production crews to assist.

'We have helped a number of dealers with their video needs and are seeing a big increase in the number contacting us for help producing them,' explained Nigel Swan, head of video at Blackball Media.
'Car buyers are increasingly researching their next purchase online and they love to see the cars on video and learn more about where and who they will be buying the car from. We're finding dealers are coming to us for video intros to their showrooms that introduce the staff and show off the premises and facilities that they then post on their website.
'These are invariably shot in a day and consumers love the fact they already "know" the personnel from the video before they attend.'
Blackball Media – publisher of Car Dealer Magazine – produces videos for a number of dealer groups, car manufacturers and editorial clients. Recent shoots have included work for Nissan, Citroen and Skoda, as well as Money Supermarket and Motors.co.uk.
The latter has invested heavily in video production and Blackball Media has helped to produce a series of car tests, top tips and new model showcases from the Frankfurt Motor Show for the classified advertising portal.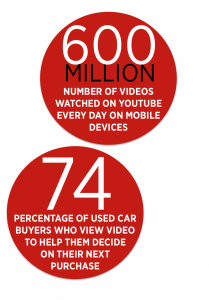 Stephen Jury, marketing manager for Motors.co.uk, said: 'We have always considered video content of huge importance.
'The usage stats for YouTube are now staggering, with more than 600 million videos being watched each day just on mobile, and the Motors.co.uk channel receives close to 100,000 minutes watched each month.
'Motors.co.uk have developed video content with Blackball Media for car buyers and owners. Working with the Blackball team means we can utilise their expertise in this area.'
So how else could dealers use video as part of their business?
Well, in the States many are using the medium to push 'information marketing' messages. In plain English, that means videos that tackle automotive- based questions to which consumers may happen to be searching for the answers online.
Automotive keywords are among the most searched terms on the internet, so if you can tap into that with videos that answer those queries you'll see an uplift in traffic to your website.
Some of the biggest dealer groups know this and are now focusing large budgets on producing engaging videos.
'We have used video to get over to potential colleagues and existing colleagues what the group is about and its culture,' said Robert Forrester, CEO of Vertu Motors. 'We are going to put a lot of investment into website videos in all sorts of areas.'
'Video makes sense since it helps with search, but it is also an increasingly cheap way to build value, credibility and trust with customers.'
Marshall Motor Holdings chief executive officer Daksh Gupta told us that his group uses video in a variety of ways, too.
'In my opinion every dealer should be using video,' he said. 'We use a combination of used car videos, new car video reviews and corporate video aimed at informing and educating our customers of our services, history, values and customer service.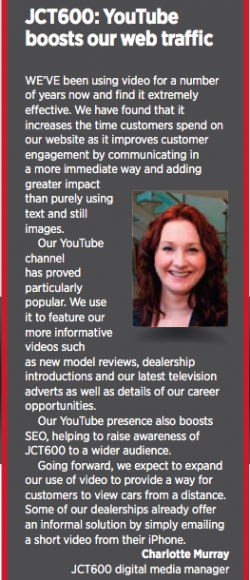 'We have had a suite of service-related videos created which explain some of the services we offer, from internet service booking to vehicle health checks.'
While much of the video content Marshall uses is professionally produced – and rightly so for corporate videos – many of the group's dealers are also producing their own content.
Gupta added: 'Some of our dealers are uploading used car walkarounds to YouTube then attaching them to the car on our website to increase engagement and leads – that's been a great success.
'Our belief is that we use the technology available to us to give the customer as much information about their chosen car, so when they test drive they already feel familiar with the car.'
Many of the web experts we spoke to agreed with Gupta that video was a powerful tool that can help drive engagement and ultimately lead to sales.
'There are times when a professional job is required,' explained Blackball Media's Swan. 'If you're adding an introduction video to your site or a corporate showcase of your group then the quality and production values need to be high.
'However, many dealers could also utilise simple video of cars shot on their phones to give consumers a better look at the product they are buying – but it needs to be explained that it wasn't a professional job.'
'Human interaction is vital in the process of car buying and selling'
Autotrade-mail director Kevin Watson thinks dealers should be turning video on its head and not focusing on the good points of a used car but on the bad instead. 'On our platform professional dealers spend more time describing imperfections than they do the general condition and, as a potential buyer, I would be more interested in knowing the tyre wear or the size of a small stone chip than what a straight panel looks like,' he said.
'We all know what a straight panel looks like, but minor damage is unique and I'd take comfort as a consumer in the knowledge the dealer wasn't trying to hide anything.'
The consensus among those we spoke to was that dealers should try to be different with their video – that way they're more likely to stand out.
'Video would be more powerful on a unique car that consumers would be prepared to travel to see where it could be used to entice them to make the trip,' said Motoring.co.uk's Chris Green. 'If you look through used car feeds that sites like ours take you can see volume dealers can't get bloody photos right so video seems a long way off for some.
'Content needs to be unique and it's the same for videos – make it unique and you make it powerful.'
Rod Joseph from DesperateSeller.co.uk agrees: 'There are probably several dealerships within a 10-mile radius selling similar cars at similar prices. Therefore, it's vital that dealers are able to differentiate themselves from their competitors and providing video content is a great way of doing this.
'Utilising video is a great way of showing customers that if they buy a car from your dealership they aren't just getting a car, they are also getting excellent levels of customer service.'
Humanising your dealership with video is also important, says AA Cars director Edmund King. All too often, consumers see car dealers as faceless businesses and King believes video is a perfect opportunity to change that.
'Too often, car buying and selling is seen as shifting metal, whereas the human element and human interactions are vital in the process,' said King. 'Video can be used to change that.'
It's clear that video can be used in many shapes and forms and although you might not be dabbling in it now, one thing's very clear – you sure will need to be in the future if you're to have any edge on the competition.