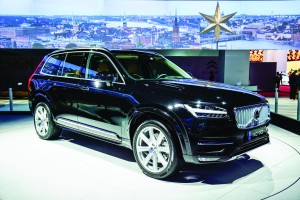 THEY didn't admit it at the time, but the bigwigs at Volvo were genuinely surprised when almost 2,000 limited-edition XC90s were snapped up in less than two days last month.
A total of 1,927 individually numbered cars sold out online just 47 hours after they were released at 3pm on September 3. Most were reserved within the first hour and at the peak of activity, seven cars were bought every minute.
The quantity of 1,927 cars was chosen to commemorate the year Volvo was founded and the top-of-the-range models had a price tag of £68,000. UK versions will be powered by a high- performance four-cyliner D5 twin turbo diesel engine which has 225hp and is teamed with eight-speed automatic transmission.

The whole sales process was stunningly successful but the official line at the time had Alain Visser, senior vice-president for marketing, sales and customer service, saying: 'We are very pleased, but not really surprised.'
When we caught up with him in Paris, however, he smiled: 'Although the press statements said it didn't take us by surprise, I have to admit that it did! When you have a new idea, you have no idea how it will turn out.
'Selling a car in that price range that nobody has ever seen via the internet is not without risks. However, we thought it was a calculated risk so we said, ''let's try it''.
'We gave ourselves 10 weeks to see how it evolved, so hearing that they had all gone after 47 hours – and it would have been earlier if it hadn't been for people queuing online – was a nice way to start.

'We even had some emails and messages from people afterwards offering us higher prices. We had to say sorry, they had all been sold out.'
It's difficult to overstate the importance of the all-new XC90 to the Volvo brand. Put simply, it represents a global relaunch of the whole company, and it was the only car the Swedes displayed in Paris.
'It's the first step of our new phase,' confirmed Visser. 'We have our own platform, new powertrains, our own design – it's a Volvo-made car from A-Z which is the first time ever.
'For us there is an element of pride. This is us now and not a collaboration. It's also a bit of a statement that we want to become a true premium brand.
'In a new Cartier showroom, you would have a single diamond ring on display, not 10 of them, and in the same way, we didn't want to create a car park in Paris but just have our one jewel here. We're making a statement that we have the ambition and commitment to get on track with our premium competitors.'