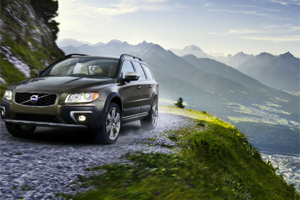 FROM next year onwards, Volvo will roll out a range of new models based on one platform.
First to appear will be a new XC90 SUV – a car that, in its current form, first arrived in the UK in 2002. In the coming years, the XC90 will be followed by a new S80, V70 and a 2+2 coupe replacement for the sleek C70.
But crucially these new cars will be based on the Swedish firm's new SPA – Scalable Platform Architecture – platform programme, cutting costs and maximising profits.

'There is a need for us to move from a horizontal to a vertical approach with our models,' Volvo's senior vice president for research and development Peter Mertens said yesterday. 'We will move from a one-model architecture to a situation where we have models jointly using parts and engines.'
Much like the Volkswagen Group's new MQB platform – as used by the VW Golf, Audi A3, Skoda Octavia and Seat Leon – Volvo's Scalable Product Architecture gives the Swedish firm the opportunity to maximise the number of models used on one platform. The new XC90 arriving next year will be the first car to use Volvo's SPA platform and it has a number of interesting developments.
'It gives us the chance to go from a seven-seater SUV down to a 2+2 coupe,' said Mertens. 'These vehicles will be modelled on an extended wheelbase, with a short front overhang, a pushed back a-pillar and front wheels which are pushed forwards – like you would get with a rear-wheel-drive vehicle.'
It will allow Volvo to build a seven-seater mummy-mobile on one production line and use the same platform on another line building a slinky coupe.

The four new Volvos will also be the first to use the firm's new range of engines which, rather than focusing on the outright number of cylinders used, will be concerned with delivering environmental benefits.
'The times of counting cylinders are over,' declared Mertens. 'The things that really matter are low co2 emissions and drivability, which is why we have gone to a maximum of a four-cylinder engine architecture programme combined with new transmissions.'
The new engines will include petrols with outputs of between 140 and 280-plus bhp and diesel units producing power outputs ranging from 120bhp to 230-plus bhp.
'The key here is that these engines will be combined with electrification,' said Mertens. 'We think that if a customer really wants to have a V8-powered car or one that is very powerful, we should be – and we will be – offering this… But in a different approach. We will do this with electrification – from very light hybrid powertrains in our smaller cars right up to plug-in hybrid technology in our big vehicles like the XC90 with power outputs of 400bhp and 700Nm of torque – comparable to V8s.'
The new engines will also allow Volvo to rid itself of a complicated range of shared engine technology from other manufacturers – and the same goes for transmission technology with Volvo choosing to move forwards with three transmissions including an eight-speed unit.
It is hoped the new approach will allow Volvo to reach its goal of 800,000 car sales worldwide by 2020.