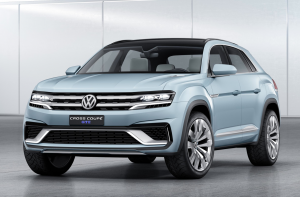 VOLKSWAGEN has unveiled a new five-seater midsize SUV concept car.
Called the Cross Coupé GTE, it is a plug-in hybrid with all-wheel drive.
It was unveiled at the North American International Auto Show in Detroit.

The Cross Coupé GTE is the third concept car presented by Volkswagen in the run-up to the introduction of the production version.  The three concept cars – the CrossBlue presented in Detroit in January 2013, the CrossBlue Coupé most recently shown in Los Angeles in November 2013 and the Cross Coupé GTE that is now being presented at the NAIAS – were developed with the aim of offering an SUV in North America in the near future that is consistently tailored to the US market.
Powering the Cross Coupé GTE is a 3.6-litre V6 petrol engine in combination with two electric motors.  The six-cylinder direct-injection engine (FSI) delivers 280 PS and maximum torque of 350 Nm, while the two electric motors deliver 40 kW and 220 Nm (front) and 85 kW and 270 Nm (rear).
They are powered by a compact lithium-ion battery housed in the centre tunnel, with energy content of 14.1 kWh.  The total output of the drive system is 360 PS, and using this full power, the Cross Coupé GTE, which has a top speed of 130 mph (209 km/h), accelerates to 60 mph in just 6.0 seconds.
In E-Mode, activated at the press of a button, the Cross Coupé GTE can travel in zero-emission mode for up to 20 miles.

MORE: Jaguar Land Rover creating 1,300 new jobs
MORE: £1 a litre fuel is here…