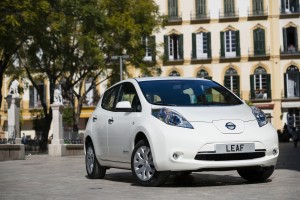 EVER wondered how to change the colour of a car without touching a drop of paint?
Then come along to Car Dealer Conference on Friday – where wrapping specialists 3M will be performing a live demonstration of their very latest techniques.
Covering a Nissan Leaf in some rather eye-catching graphics in our exhibition hall, they'll be hard at work as our attendees sip their coffee – demonstrating just how you can use vinyl wrapping for some rather imaginative marketing campaigns.

3M are just one of the many influential companies in attendance at this year's Car Dealer Conference – joining the likes of Glass's guide, BCA, Autos On Show and more.
Held at the Heritage Motor Centre, Gaydon, the FREE to attend event is the ideal destination for dealers who want to see the latest products and services that can help increase profit, save money and protect their business.
Attendees be hearing from key speakers on the day, who'll be sharing ideas and solutions to help dealers make the next 12 months even more profitable.

What's more, you'll be able to put your questions to a panel of some of the biggest and most knowledgable figures in the industry – including those from Trading Standards, HPI, the FLA, Google and our Car Dealer Club's legal aide, Lawgistics.
Expo
Meanwhile the Heritage Motor Centre's exhibition hall will be full to bursting point with the Car Dealer Conference Expo. Exhibitors from all areas of the trade and motor industry will be on hand to explain about the products and services they can offer to dealers.
Register – and FAST!
Car Dealer Conference takes place on Friday, so get your skates on! The event is FREE to attend so click here to register NOW