While car dealers across the UK flung open their doors again in June, it's been a different story in the world of car auctions.
The doors to auction halls have been kept shut during lockdown with the main players running online-only sales.
Many dealers have voiced concerns on the Car Dealer Forum that sales during lockdown have been 'crazy', with cars making very strong money and reporting problems in getting sold cars delivered to dealer forecourts.

But with auction houses being such a key part of the motor trade, will they ever reopen or has the balance swung towards a digital-only future? We asked the big players in the remarketing world to make sense of what's going on.
When will physical auction sites reopen?
Most auction companies will carry on with online sales for the foreseeable future and at least during August. All the companies we spoke to said they were assessing the situation on a week-by-week basis.
Cox Automotive says 'it's being constantly reviewed' while G3 Remarketing says it is 'not entirely satisfied that the safety of the team and our customers would be protected by opening the hall to a large gathering of people. We acknowledge that other centres have already opened their doors, but as the government still advises against mass events, we feel that operating a full auction and welcoming 250+ physical buyers really doesn't follow that advice.'

BCA chief operating officer Stuart Pearson said: 'All sales currently remain online for trade account holders only and we're keeping close to the latest government guidance in order to protect our people, customers and suppliers. We'll look to restart physical auctions when appropriate.'
Aston Barclay MD Martin Potter told Car Dealer: 'Currently, our sites are open for collection, payment and pre-viewing stock prior to sale. The return to physical buyers and cars being driven through the halls is constantly under review, as we are taking the corporate responsible view that we should not encourage gatherings of people at this time to keep the "R" number as low as possible.' [The R number represents how many people to whom one infected person can spread the virus.]
However, G3 did say it envisaged introducing individual viewing appointments to help buyers who wished to visit and assess vehicles ahead of a sale.
How different will the sites be when they reopen?
The actual buying of cars will be the same but, just like your local supermarket or pub, it will look a little different.
G3 says it has implemented a strict one-way system in the car park through reception and into the hall, then back out through a newly installed gate to complete the loop back to the car park. Along with hand sanitiser points, it has also created 'safe bidding hot spots' where bidders can stand socially distanced but remain in the eye of the auctioneers.
Cox Automotive says it has brought in all the necessary safety precautions and, in some instances, gone above and beyond the requirements. 'Feedback from team members has been extremely positive,' it said.
Aston Barclay is allowing a limited number of buyers on site ahead of an auction to view vehicles. The firm says each person must sign an online form and confirm the sale they are interested in viewing, and all buyers must report to auction reception and are only allowed to enter once they have been through the check-in process. It's also running appointment-based viewing, and deliveries and collections are spaced out during the day.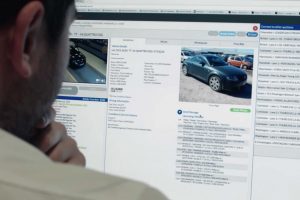 Will all sites be reopening or have online auctions put the future of some physical sites in danger of closing?
Not all the companies we spoke to answered this question, but the ones that did were adamant that they will reopen and largely all for the same reasons.
G3 Remarketing feels that physical auction rooms have 'a huge influence on the market', and it said it would 'continue to invest in our auction hall offering for buyers to look, touch and listen to vehicles. We acknowledge there is a need to update and redesign physical premises to embrace this evolving market and this is something G3 will continue to do over the coming years.'
Aston Barclay's Martin Potter says: 'Our business model since 2017 has been to develop class-leading digital routes to market supported by a first-class auction network and that will not change.
'Our physical sites have been very busy post-lockdown, inspecting and imaging vehicles prior to them being uploaded to the internet for buyers to bid on and view online. The main difference on site is that used cars are not being driven through the halls, but the on-site inspection, valeters and logistics teams are all busy.'
Interestingly, G3 also feels that certain vehicles still sell better at physical auctions rather than online and 'while we've witnessed some extraordinary price increases over the past few months, we believe these to be unsustainable and the return of physical events will help bolster values for older, more damaged stock as the market cools down,' said a spokesperson.
How have online auctions been performing since March?
It's been mad, quite frankly. G3 Remarketing has seen all previous records beaten with a 246 per cent increase in number of bids per lot in April, May and June year on year, a consistent 300-plus buyers logged in for each sale – up 100 per cent on last year – while individual vehicle pages are still averaging more than 200 views each in the run-up to a sale, which is a 76 per cent year-on-year rise.
Aston Barclay has also seen 300 to 400 buyers logged on and buying online, with many new buyers signing up to buy online for the first time. Since June 15, the firm has been running a full weekly online auction programme of around 28 sales, which mirrors what it was running physically before lockdown.
'Prices in our online auctions have risen by 20 per cent in the young dealer part-exchange sector (55-78 months) during Q2 and overall the older part-exchange stock has seen the strongest bids post-lockdown,' said Aston Barclay boss Martin Potter.
'Even the budget stock aged over 126 months rose by 15 per cent to £1,200 in Q2, reinforcing that dealers should consider trading older part-exchange used cars. Diesel prices rose by a massive 31.3 per cent (£2,386) in Q2, while fleet prices rose on the back of this increase by 9.6 per cent (£965).
BCA said it had expanded its online remarketing programme 'significantly to meet the demand' and was running up to 20 sales in parallel at any one time. Rather amazingly, the firm is seeing daily entries 'regularly' exceeding 5,000 vehicles and 'ahead of what we would typically see at this time of year', and it has had 'up to 1,500 buyers logging in for some individual sales'.
Cox Automotive has been running online-only auctions since June and said: 'We have experienced some online sales with over 300 active buyers and even seen 200 live bidders at evening sales. Also, we are seeing strong first-time conversions which are up year on year and CAP Clean performance exceeding 2019 performance by 4.3 per cent (97.06 per cent CAP Clean as at July 17).'
Moving stock has been an issue, though, hasn't it?
This has been a problem for dealers for months, with many complaining that they've battled – and quiet often paid more than they were expecting to – for stock, only to find they can't get it to their empty forecourts.
Auction companies are now saying these problems are being ironed out and the logistics side is faring better. G3 Remarketing, for instance, increased the number of partners it works with to create more delivery options, with most deliveries now taking 72 hours, and it has offered a click-and-collect service as well.
Similarly, at BCA, any dealer collecting stock must contact the firm beforehand, and it has created additional slots to fulfil demand. 'We are imminently launching a new digital service to support this part of the customer journey, which will put the customer in greater control and will allow us to flexibly create more slots depending on demand,' said BCA's Stuart Pearson.
Cox Automotive said it hadn't experienced any problems, while Aston Barclay said: 'Things have been a little more difficult due to the volumes and the supply chain running with limited plate driver activity due to distancing regulations, but the issue is industry-wide and customers are willing to work with a slight delay in lead times.'
Auction fever: We witness the crazy used car prices at auction first hand at franchised car dealer's online sale
Featured image at the top of this story is of an auction taking place before lockdown