WITH this year's Car Dealer Used Car Awards coming up soon, we've been talking to some of last year's winners about how much their victories have helped their businesses.
Imperial Car Supermarkets won Used Car Supermarket of the Year in 2017, which its operations director Neil Smith told us was another feather in the company's cap.
'The Used Car Awards are obviously targeted at our sector of the industry,' said Smith. 'It's the big one for us. We attend other awards ceremonies, but it's the Used Car Awards that really impact for us. It's always a great night – and there's always a good speaker, so it's a definite for me on the calendar and it was great for us to win last year.

'We've got a policy that we're going to try and win as many awards as possible because it does support what we're trying to do as a business. We're trying to be a bit different in the market, and be a little bit more open and transparent, and when we get awards like that it's great and it really reflects what we're trying to do. It's also a great boost for the employees. It's good to be recognised for what we're doing and long may it continue.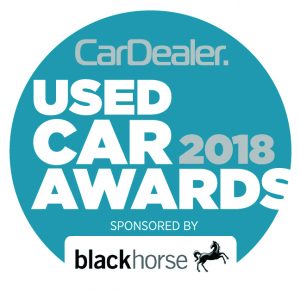 'Right now, there's a billboard running in Portsmouth near one of our sites that's got Used Car Supermarket of the Year Award on it and we'll promote it internally. As soon as we win these awards, we'll put them out on the blog, then they get posted on Facebook, so it's something that we set great store by.
'It's recognition of what this business is doing, and it also does tend to give the customer the confidence in buying from us, because it's always a big decision to buy a used car from a non-franchised dealer, so it's good to have that back-up.'
The Used Car Awards are also a huge help for smaller businesses, such as SRK Specialist Cars, whose co-owner Scott Knight told us that customers had actually made purchases at the dealership because of its Newcomer Dealership of the Year win last year.

'It definitely helps in the same way our reviews help,' said Knight. 'People see that we've won the awards and they trust more in the brand.
'The type of stuff that we sell, we don't tend to get people coming to us to buy a car and picking from our forecourt – they will come to us because they're looking for a particular car and we have that particular car – but people have said that they buy from us based on the fact that we have won the award, so it helps in a way that people have chosen us over some other garages.'
The awards, sponsored by Black Horse, will be taking place at The Brewery in London on Monday, November 26 and nominations close on Friday, October 5, so make sure you get nominating now by clicking on this link!
MORE: It's time to get nominating for the 2018 Car Dealer Magazine Used Car Awards!
MORE: Who won what at the 2017 Used Car Awards?
MORE: Used Car Awards 2017 – check out our tweets from a memorable night