WITH just 10 weeks to go to the Used Car Awards, there's no time to lose if you want to be in the running for one of our prestigious trophies!
The ceremony will be held at The Brewery in London on November 28. Once again, it will gather together the best of the best in the used car industry so that an often-overlooked part of the automotive scene in the UK can enjoy some well-deserved praise and recognition.
Many previous winners have reported that the success they enjoyed at the Used Car Awards has been genuinely beneficial for their business – emphasising why you should get involved if you haven't done so already!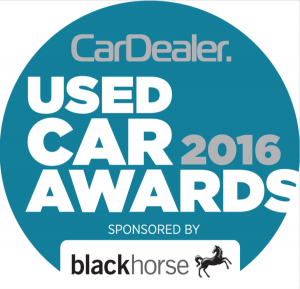 Lawries Garage Volkswagen, in St Boswells, in the Scottish Borders, picked up the gong last year for being the Used Car Dealership of the Year in the Under 50 Cars category – and after chatting to the team there, it seems they haven't stopped talking about it since!
Car Dealer Magazine caught up with sales manager David Henderson, who told us: 'Winning a Used Car Award was a fantastic thing for us – it really was.
'Since we won it, we've really put it out there and we've got Used Car Award banners on our windows and on our website and Facebook page.'
Asked if the award had proved useful from a marketing point of view, Henderson replied: 'Absolutely. And not just marketing. It's been great from the point of view of customer trust.

'We sell cars up and down the country, so if we're speaking to customers on the phone, perhaps dealing with someone that we've never met face to face, it gives them peace of mind when we mention our award.
'It's been very beneficial for us and we wouldn't mind being at the Used Car Awards again this year!
'The event itself is really good – it was brilliant, a great night, I must say. From our point of view, our involvement with the Used Car Awards has been very beneficial. We drop it into the conversation whenever we can.'
It's quick, simple and FREE to nominate someone – or yourself – for a Used Car Award. And who knows? You could be celebrating with us at The Brewery on Monday, November 28.
With more than 20 categories covering all areas of the used car trade, you're bound to fit in somewhere!
Our picture shows Keith Brocklehurst and David Henderson from Lawries Garage picking up their award last year.
MORE: Nominate yourself – or someone else – for a Used Car Award
MORE: Flashback to last year – and it's a night of delight for the class of 2015
MORE: So who were our winners of the Used Car Awards in 2015?
On SuperUnleaded.com: Russia Rolls Out Topless Models To Slow Speeding Drivers