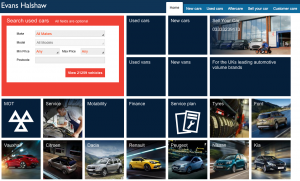 EVANS Halshaw, the volume brand for Pendragon PLC, has a new website.
The refurbished site is now fully responsive, meaning every customer will enjoy the same browsing experience across all digital platforms.
Analytics show the number of visits to EvansHalshaw.com on mobile devices is five times higher than it was in 2010, along with more than 700,000 additional visits per quarter from tablets that weren't around four years ago.

The website enhancements have looked to address this.
Victoria Finn, head of marketing communications and leader of the project team that updated the site, said: 'Almost half of the visitors to the website now come via a mobile or tablet device and we expect this to keep rising.
'Feedback from our retailers has also reflected this with an increase in visitors to the forecourt who've taken the time to research online first.
'The updates aim to make the research process fast and responsive on every platform.

'Today's buyers expect more from car dealers than ever before and dealerships remain integral to this so along with the new website, we've also invested in training, introduced free wi-fi across all of our sites and extended opening hours to 10pm for the telephone enquiry line.'
The launch of the new website comes after the company's interim management statement revealed Evans Halshaw outperformed the prior year and visits to Group websites (also incorporating Quicks.co.uk and Stratstone.com) increased by 16.8 per cent in the third quarter.
MORE: Used Car Awards shortlist revealed
MORE: £100,000 of damage as car leaves the road and hits dealership