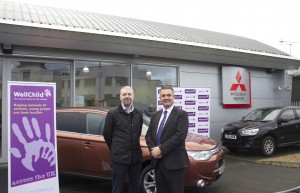 A CHILDREN'S charity, which has saved more than £20,000 thanks to a Mitsubishi dealership group, has been given a boost after the company pledged to support it for another year. 
Cheltenham-based WellChild, which helps seriously ill children and their families across the UK, has saved enough money to pay for more than 1,000 hours of nursing support thanks to the backing of CCR Mitsubishi since January this year.
Now the company has vowed to keep lending the charity two vehicles throughout 2015 and has just handed over a brand new Mitsubishi Outlander and an ASX.

Colin Dyer, chief executive of the charity, said having the vehicles has saved them money that would have been spent on hire cars and train travel.
He said: 'We have driven more than 42,000 miles in the vehicles CCR Mitsubishi have lent us this year which over the 12 months has saved us more than £20,000. That's the equivalent of more than 1,000 hours of work from a WellChild nurse. To have these vehicles is brilliant for us. It has had a really important impact for the charity and therefore the children and families that we are supporting.'
Tim Bagnall, managing director of CCR Mitsubishi, said: 'WellChild is a national charity but it is based locally so we are keen to help them. It's fantastic that we're able to help the charity save so much money that can be ploughed back in to their vital work and make a real difference to children's lives.'
WellChild took delivery of the brand new Mitsubishi Outlander and a Mitsubishi ASX at CCR Mitsubishi's Cheltenham and Gloucester dealership in the Meteor Business Park, Cheltenham Road East, Staverton.

The charity provides essential practical and emotional support for seriously ill children, young people and those who care for them to ensure they receive the best possible quality of care.
Our picture shows Tim Bagnall, managing director of CCR Mitsubishi (right), and Colin Dyer, chief executive of WellChild, with the Mitsubishi Outlander and ASX (in black)
MORE: Jeep and Audi models are five-star performers
MORE: 2,700 garages sign up to RAC's new comparison site
MORE: 4x4s show an appreciation in values