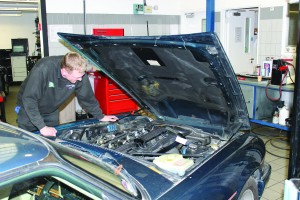 A TOTAL of 2,700 independent and franchised garages have signed up to the RAC's new, real-time online servicing, repair and MOT price comparison site in the two weeks since the project was announced.
RAC Garage Compare went live yesterday and the strong response from service providers means that there is already excellent nationwide coverage and choice for consumers.
Douglas Rotberg, CEO of The Motorists' Organisation, which is the RAC's partner for the project, said: 'The initial wave of registrations has been fairly evenly split between franchise and independent garages, showing the appeal of the concept to a wide variety of different kinds of businesses.

'Our aim over the coming year is to consolidate the involvement of garages of all kinds. We have been in contact with around 10,000 suitable garages and believe the commercial model will prove to be extremely appealing.
'The key reason for the fast registration rate that we have seen is the credibility of the RAC brand and recognition that this is a major development in the service and repair sector.'
Working on the same principles as comparison websites covering products such as motor insurance and other financial products, RAC Garage Compare is designed to provide RAC members and other motorists with absolute transparency when they compare prices and service standards from independent and franchised garages all around the UK.
Consumers simply enter their postcode and registration number plus details for the kind of services they require. They then book online, receiving a confirmation and are also encouraged to rate the garage after use.

For garages, the new site provides free listings and access to a potentially entirely new pool of local customers as well as the opportunity to build a strong reputation through customer ratings.
MORE: 4x4s show an appreciation in values, despite the mild weather
MORE: Another achievement for the Car Finance Company
MORE: Car Dealer magazine founder commended at awards