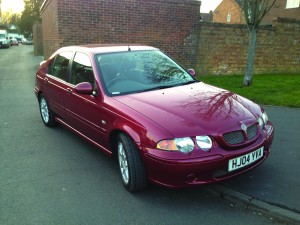 MIKE bags a peachy MG ZS and turns over a quick profit. James realises buying his Metro was perhaps not a good idea.
Mike's story: Determined to get a head in the battle between me and that upstart Baggott, I wasn't going to hang around after the sale of the disgusting peppermint- colour Corsa. I needed to bag a tidy car, make a slice of dough on it and move on. And the country's best used car dealer (ahem.., me) has just gone and done that.
While Baggott was crying about buying that shed of a Metro, I hot-footed it down to a mate of mine. Chatting over a cup of builder's I tactfully told Alan about my situation. He pointed to a little MG parked in the corner – a ZS hatchback in old man burgundy. It was in good nick and Alan was asking the not unreasonable money for it.
He wanted to make a quick sale on it too after buying it the week before from BCA. I used my charm and twisted his arm to let it go for a bit under a grand.
Alan gave the car a quick service and stuck a ticket on it. And after shelling out £1,050, the maroon MG was mine. Further inspection showed it was a real gem. It had only covered 55,000 miles with a full service history, one lady owner and the handbook was stuffed full of copies of all the old MOTs.
It also had a wad of paperwork detailing servicing and showing it had the all-important headgasket replacement and cambelt fitted at 32,000 miles. The only small gripe was the tow-bar – but that could be removed in a jiffy.
It didn't drive too badly either. As MG ZSs go, it was a real minter and I have to say I had spent a few good miles in it before I moved it on. But I eventually had to put it up for sale. I thought I'd give social media a try. You know, a bit of tweeting and a bit of Facebook – but no-one was really that interested. The guys at Auto Trader saw my tweets though, and offered to place an ad free of charge for the MG. I bit their arm off!
Using my loaf, I thought placing the advert with a set of tasty pics a couple of days before Easter would get some interest. Easter holidays are always a good time to punt out a car with an attractive price tag. I put it up for £1,200 – and it worked. I had six enquiries by the end of the first day.
The first potential buyer turned up and spotted the towbar. Now, I had clearly shown in the pics accompanying the ad that the ZS had a tow-bar. But the first buyer seemed to forget this. He took one look at it and muttered 'I never buy a car with a towbar' and left. You couldn't have made it up.
The second viewer turned up, took it for a test drive and offered the full asking price. A nice fella turned up with his dad. He still wanted something slightly sporty but wasn't going to cost the earth to run. Deal done.
So, with £1,200 in pocket I'm off to look for another winner. Baggott: Game, set and match.
Current tally: £1,200