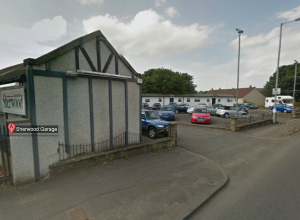 SIX luxury cars worth a total of between £75,000 and £80,000 have been stolen form a garage in Glasgow's east end.
The vehicles were taken during a break-in at Sherwood Garage, Baillieston Road, near Mount Vernon, between 23:00 in Sunday and 01:00 on Monday.
The cars stolen during the raid were a Jaguar X Type, Black Porsche Boxster, black Porsche Cayenne, silver Audi S3, black Ford Focus ST and a blue Ford Fiesta.

Police have appealed for anyone with information to come forward and say the entrance to where the car keys were kept had been forced.
Det Con Graham Harries said: 'There is a local bar close, to the garage, and I am appealing to anyone who may have been in the pub or in the area around the time of the theft.
'It's possible people came outside to smoke a cigarette and may have seen activity at the garage. I am appealing to anyone who has any information and knowledge to get in touch with us.'
Picture credit: Google