The second qualifier of the 2019/20 season of the Close Brothers Motor Finance/Car Dealer Go-Karting Challenge was held at TeamSport Karting's Manchester Trafford Park track. Blackball Media's Andy Entwistle was there for the action…
AFTER the slips, slides and shenanigans of Stockton's opener, round two had some living up to do.
Following Stockton's slippery surface, Manchester's was like chalk to cheese, being a single-level track layered with tarmac, making it a pretty serious track for the real karters.

Another 12 teams were fighting for the top two places and this track was sure to separate the Hamiltons from the Alsorans.
The race was a 90-minute endurance, comprising teams of four, with each team driver having to take to the kart at least once.
Representatives from the north-west automotive industry included teams from Phil Weaver Automotive, Cheshire Performance Cars, Cartime and MW Car Sales.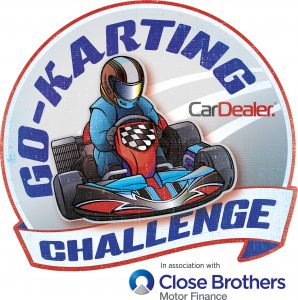 The practice session was, as always, chaotic. Under yellow flags, team should have been driving at walking pace, but based on what we were seeing, people in Manchester walk pretty fast!

Automotive Addiction were fastest in practice, clocking an impressive 35.69, but the random nature of the pole placement saw them down in 12th and last, with Motorsave Handsworth's team on pole.
A first-lap spin saw red flags out, but despite this Benza Autos had taken first place and Automotive Addiction had made five places.
Within two laps, Automotive Addiction were up to third, chasing an impressive drive by Phil Weaver, taking him for second place on lap three and now chasing down Benza who had a healthy 38-second lead.
All seemed to unwind for the Automotive Addiction team with a black flagged penalty for a 'tap', which seemed unfair, dropping them to fifth, so lots of work to do.
On lap 32, Benza finally lost their lead to the Henley Cars/HI Auto Services team who had been consistently lapping well, only to lose their brief lead after a yellow flag.
Lap 62 saw a number of driver changes, with Automotive Addiction putting another quick driver in and taking third place back within two laps, reducing their deficit to first to just 25 seconds, with Benza now just 10 seconds ahead. Henley/HI, having led for a while, now dropped to fourth.
A lengthy red flag on lap 68 saw Henley/HI take Automotive Addiction when they should have been stopped, somehow not seen by the stewards, with Automotive Addiction remonstrating loudly! A lengthy stop for barrier repairs resulted in five minutes' driving lost and now only 34 minutes remained.
On lap 84, Benza spun and lost too many places, waiting to be righted and, in effect, killing their chances of a win and possibly a podium too.
Lap 86 saw Cheshire Performance Cars change a driver, promoting Automotive Addiction to first, who were busy planning their strategy: do they change their last driver yet or keep out for a while and try to build a lead? Benza responded to the spin by putting in the fastest lap of 36.38, followed by a 35.58. They were determined to make up for that spin…
Unlike Stockton, this could be anyone's race – the proliferation of yellows and teams' difference in the interpretation meant a 30-second lead could be lost in a moment or made. There was no consistency so it was too early to call.
With 10 minutes to go, only Automotive Addiction and Benza were on the same lap – Benza now putting fastest laps in for fun, the latest a 35.47 – with Henley/HI and Cheshire battling for the last podium.
Benza took the lead on lap 113 with eight minutes left. Even with the spin earlier, could they now win this…?
With one minute to go, Automotive Addiction were given a black flag so into the pits they went, ending their hopes for a win.
At the flag, the winners were Benza Autos, second Automotive Addiction and Henley/HI Autos coming in third. Fastest lap for a non-podium was claimed by Ancoats Car Sales/MW Car Sales at 36.228.
The third qualifier will take place at TeamSport Karting's Reading venue on Wednesday, November 13 and we've got one place left on the grid, so if you fancy your chances there – or at the two subsequent and remaining rounds in Harlow on January 16 and Cardiff on February 6 – register via [email protected]. Thanks to Close Brothers' support, it's free to take part!
Here's what you need to know about the racing…
What time does the racing start?
Teams need to arrive at the venue before 7pm. Free parking is available. Before the race begins at 8pm, there's a mandatory drivers' briefing plus a 15-minute practice session, which will get you used to the layout, kart and pit stops.
Who can drive?
Every driver in your team needs to be in the motor trade – no professional racing drivers will be allowed to race, nor any non-motor traders. If you're unable to put together a team of four from your staff, you can combine with other local dealers. As long as they work in the motor trade, they can be part of your team.
Will I need any gear?
No. TeamSport provides helmets, race suits and gloves at each track, so there's no need to buy any gear you don't have.
Are there prizes?
Yes! There will be a podium ceremony at each regional round and a trophy for the winning finalist.
How do I sign up?
Any dealership in the relevant region can apply to enter the qualifiers by emailing us at [email protected]. Applications will be drawn out of a hat and you'll be informed if your entry has been successful.
The grand final will be held at TeamSport Karting's Leicester track on March 4.
MORE: Slipping and sliding in Stockton – Our latest go-karting challenge gets off to a super start!
MORE: Roar-some! The fantastic Car Dealer Magazine Go-Karting Challenge is back!
MORE: Your Best Car takes top honours at our Go-Karting Challenge final!