Car dealers are now set up to deal with a second lockdown if the government imposes a two-week 'circuit break' – but depending on the severity experts warn it could be 'disastrous' for the industry.
Ministers have refused to rule out a second national lockdown to quell the rise in coronavirus infections with a two-week circuit breaking lockdown over the October half term currently being considered.
Car dealers, manufacturer bosses, and motor trade experts said that while the industry has worked hard to set up their businesses to cope with the pandemic, a draconian lockdown could knock the car industry recovery off the rails.

Prime Minister Boris Johnson said yesterday that 'everything is under review' as he admitted the long-feared second wave of the pandemic had now arrived in the UK.
Ministers and the devolved nation leaders called for the government's Cobra committee to reconvene to discuss all options as the situation worsens. 
Yesterday, the confirmed daily cases of coronavirus hit 4,322 – the highest since May 8.
The PM said: 'We are now seeing a second wave coming in.

'We are seeing it in France, in Spain, across Europe – it has been absolutely, I'm afraid, inevitable we were going to see it in this country.'
On Friday, new restrictions were imposed on the North West, West Yorkshire and the Midlands which will mean from Tuesday 13.5m people across the country will be living under tight coronavirus controls. 
They follow restrictions put in place in the North East on Thursday.
Health secretary Matt Hancock refused to rule out a second full national lockdown yesterday and said the government will 'do what is necessary to keep people safe'.
Speaking to Sky News, he said: 'The last line of defence is full national action and I don't want to see that.
'But we will do whatever is necessary to keep people safe in a very difficult pandemic.'
While it is not yet known what measures would be enforced in a second national lockdown and if businesses would be forced to close again, experts warn it could be a nightmare for the economy.
Motor trade accountancy expert David Kendrick, a partner at UHY Hacker Young, said a second lockdown would be 'disastrous' for businesses.
He said: 'Whilst there is talk of a second lock down it appears there is a real reluctance to lock down business. 
'If this was to happen I worry it would cripple the economy beyond belief. My real worry is we talk ourselves into another complete lock down and people are afraid to go out.'
Andy Barratt, chairman and managing director of Ford of Britain, told Car Dealer that if a second lockdown was imposed his dealers could cope.
He said: 'Dealers have most definitely evolved.
'No touch service drop off and collection, online  new and used sales capabilities and, in the Ford network, over 100 mobile service operations.
'Dealers have built contingency resilience to try and weather future challenges.'
Dealers have enjoyed a bounce back in sales both with new and used cars since they were allowed to reopen fully on June 1 with some reporting that they've even made up for the losses of lockdown.
Car industry analyst Mike Allen, of Zeus Capital, told Car Dealer a second lockdown could damage car businesses at a crucial stage.
But he did not think that a second lockdown would force car dealers to close their doors, as it did earlier in the year.
He said: 'A second lock down could well impact short term confidence and sentiment at a critical point in the recovery. 
'However, I do not see this as a situation in March/April when dealerships had to shut down completely.
I would also say that the industry has dealt very well with such adversity this year and have proven they can manage cash well in a crisis. 
'If we did get a second lock down in mid-October we would hope it would not derail what appears to be a robust period of September trading.'
Dealers pushed over edge
Car dealer bosses said that while they had made huge changes to their businesses to cope with the Covid-19 pandemic, a second lockdown would be 'disastrous'.
Stuart Foulds, chairman of TrustFord, the largest Ford dealer group in Europe, said it could push dealers over the edge.
He told Car Dealer: 'Our dealerships are well placed to cope with the pandemic. 
'However, should there be another lockdown, while I am confident of 100 per cent compliance in our dealerships, it would be catastrophic for our industry and push dealer groups already close to collapse over the edge.'
Umesh Samani, chairman of the Independent Motor Dealers Association, worries for jobs in the event of a second lockdown.
He said: 'Lockdown would be a real disaster for all the dealers. We've all just got used to the new way of dealing with customers via social distancing and home deliveries. 
'But if we have full lockdown dealers will put staff back on furlough where they can and with the furlough changes there will be more job losses.'
'We just have to be prepared and not panic.'
He did note that the government was encouraging people not to use public transport again and that has forced people into the car market and boosted car dealer sales.
Vertu Motors boss Robert Forrester told Car Dealer in an exclusive video interview that new measures imposed on the north east would have no effect on his business. 
However, those rules do not impact businesses, but ban residents from socialising with other people outside their own households or support bubble, while food and drink venues are restricted to table service only. 
Jim Holder, editorial director at Haymarket, publishers of What Car? and Autocar, said consumers are now used to buying from Covid-19 secure dealerships.
He said: 'Our research shows that an increasing quantity of car buyers are comfortable extending their research and purchase journey online – albeit with most wanting some form of physical interaction with a dealership. 
'That means that no matter how severe the lockdown, there will still be business to be done.
'A large majority of our readers have said they are greatly reassured by the coronavirus protection measures put in at dealerships, suggesting the hard work put in there has paid off. 
'If doors do remain open then dealerships have little to worry about in terms of customers being dissuaded to enter.'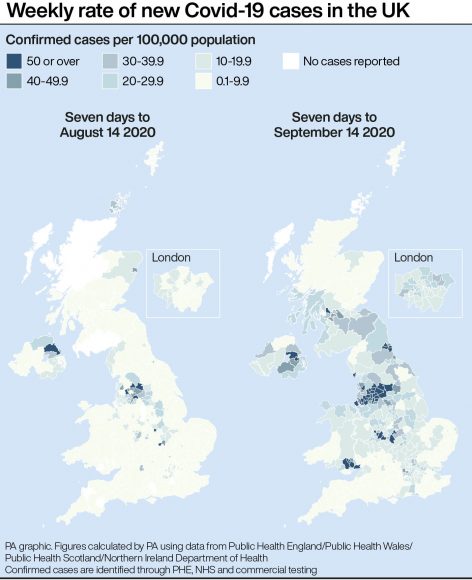 Meanwhile, the ONS said its latest estimate shows the number of infections has increased in recent weeks.
Overall, an average of 6,000 people in England per day were estimated to be newly infected with Covid-19 between September 4-10, almost double the 3,200 people per day from August 30 to September 5.
Yvonne Doyle, medical director at Public Health England, said: 'We're seeing clear signs this virus is now spreading widely across all age groups and I am particularly worried by the increase in rates of admission to hospital and intensive care among older people.
'This could be a warning of far worse things to come.'