THE TEAM at JCT600's Audi dealership in Lincoln saved the day for a couple due to get married after snow curtailed the bridegroom's travel plans.
The snow-hit Lincolnshire area created a particularly tricky wedding problem yesterday for Michael Enright and wife-to-be Gina.
BBC Radio Lincolnshire contacted Lincoln Audi for help as Michael, his best man and parents were stuck in Horncastle, some 20 miles from Lincoln Cathedral, where the ceremony was due to be held.

And the showroom team were quick to act, taking an Audi A8L and Audi SQ7 to Horncastle to rescue the bridegroom and his entourage.
Lincoln Audi sales executive Josh Leeming, who was involved with the operation, said: 'With it being the first day of March, obviously it's a new registration month, so it's usually one of our busiest days of the year. However, because of the weather, a lot of customers collecting vehicles had postponed due to safety concerns.
'So we took the view that it would be good to give back to the local community by assisting them. We sent over an Audi A8 limousine as well as an Audi SQ7, mostly as a support vehicle just in case the roads were as treacherous as people were saying – which, actually, they were!
'We managed to get to them, we loaded their wedding suits, wedding cake, decorations for the reception, and got everyone back to Lincoln.'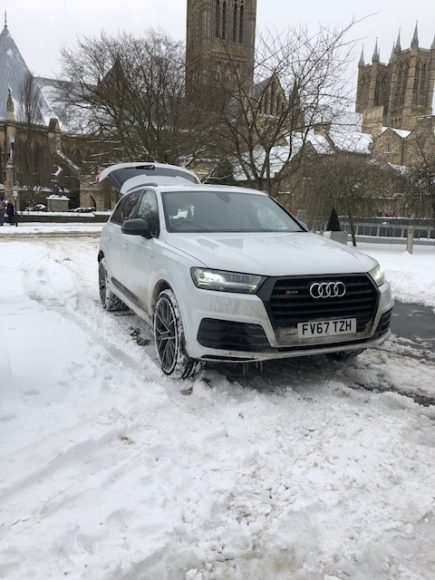 Eventually, the bride and bridegroom were united at the cathedral, and their ceremony was filmed by BBC Radio Lincolnshire and seen across the station's Twitter feed.
The #beastfromtheeast proves no match for the people of Lincolnshire and true love ❤️ pic.twitter.com/onBeTsoJiE

— BBC Radio Lincolnshire (@BBCRadioLincs) March 1, 2018
Congratulations to the happy couple – and to all at Lincoln Audi for saving the day!
MORE: Mercedes-Benz and JCT600 open pop-up store in Sheffield's Meadowhall shopping centre
MORE: 'Invaluable partner' BCA in new two-year deal with JCT600
MORE: JCT600's Bradford Peugeot dealership receives a revamp
On Workshop Magazine: E-Type UK opens bodyshop at Kent HQ