It's day one of Car Dealer Magazine's annual Bangers4BEN rally and although things are going smoothly for most teams – as is tradition, it's not been so smooth for us.
We started this morning in Dover with 40 teams from all walks of the motor trade in varying states of fancy dress. We've just arrived – some 11 or so hours and 407-miles later – in Mulhouse, near the Swiss border.
From what we gather it's been a relatively uneventful day for most. Autoroute schleps have been punctuated only by terribly small cups of coffee, awful sandwiches (why can't the French get those right?) and encounters with 'holes in the ground' that none of us ever want to speak of ever again.

For team Car Dealer – well mine at least, ops director Andy has been fine (obviously) – #b4b14 (as it's become known on Twitter) has been rather fraught with problems.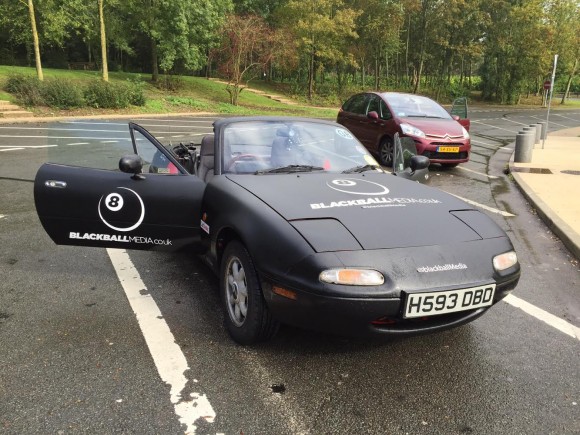 The current sit rep for our Mazda MX-5 Turbo Type M Power Sport Edition is as follows.
Breakdowns – Two
Passenger window – Stuck, currently half way down

Stereo – Intermittent. It dislikes Blur and turns itself off
Rear lights – Dead
Dashboard illuminations – Faulty
Central locking – Long forgotten
Roof – Mostly leaking
Fuses – Scattered around floor
Horn – Quiet to the point of non-existent
Washer jets – Dry
Alarm – Missing In Action
Side lights – Defunct
An optimist would point out we've made it to our stopover point in one piece and that the engine is still running. Which is true. A pessimist would point out tomorrow's mileage includes the car-killing Stelvio Pass…
Oh. And it all started so well. Ok, that's a lie, it started terribly. Three miles into our journey to Dover, still technically in Gosport, we were angrily flashed by a Lexus driver. It was clear we had a fault. I hadn't cut him up. I think.
Co-pilot and Japanese Boy lookalike Jon Reay and I soon realised we were a bit dark out back – and by bit dark I mean there were no lights at all, not even for the brakes.
A quick call to Car Dealer fixer ops director Andy – who just happened to be sat next to our AA contingent – diagnosed a blown fuse.
After some contortionist poses in the drivers footwell I managed to replace a couple to get the brake lights and rear fog light working, which was enough to get us to Dover. The AA are currently trying to find the earthing problem as I type. Kind chaps. More on them later…
As morning broke over a choppy Kent coastline, the 40 teams taking part in this year's rally lined up to board the ferry. Along for the ride are all sorts. In no particular order, we've been particularly impressed with…
The dog… we can't confirm what it smells like when it gets wet…
…these ice cream men refused to serve us a Mr Whippy with a flake. WHY?!
…The Bananas in Pyjamas were a star attraction with the WHOLE ferry. Justin Bieber would have got less attention.
Fortunately our trip to Turin was blessed by his holiness. However, I'm starting to think he might have cursed our car…
…We were particularly impressed with Citnow's Fiat X19 making it all the way here without incident. Who knew a Mazda MX-5 would be more unreliable?
We also like this Ferrari 406. It's a little known special from Maranello. No, we are of course lying. We don't want the super fussy super car firm sending the lawyers out. Stand down lawyers, STAND DOWN!
There were plenty of other teams taking part too. We didn't manage to snap them all. You see our Mazda was too fast and took off into the distance a bit too quickly… for a while.
However, we did snap some entrants on the ferry. Like the orange HPI Saab and Car Dealer's second (and slightly more reliable car), a BMW Z3, with Andy and PJ at the wheel…
Some pics of the plucky entrants for #b4b14. And they've all made it to Mulhouse! pic.twitter.com/7vlos8Ng5r

— Bangers4BEN (@Bangers4BEN) October 11, 2014
And here's one of the Sunday Times and Sun Motors' team cars with another shot of that oh-my-god-it's-not-rusted-away-yet Fiat X19.
And some more of our #b4b14 brethren… pic.twitter.com/sHp5ueJqkF — Bangers4BEN (@Bangers4BEN) October 11, 2014
As you can see they've all been having a lovely time.
Event-free journeys, all smooth drives where teams have been able to 'enjoy' the most boring roads France has to throw at them.
Lovely. Just lovely. We're so HAPPY FOR THEM!
Meanwhile, at the side of the road, near Reims, this was happening…
Oh. That's not good. That'll be us broken down then… #b4b14 pic.twitter.com/nEM8BAL2MZ — James Baggott (@CarDealerEd) October 11, 2014
Yeah, we broke it… Well I say we, what I really mean is Jon broke it. Thankfully The AA men were not far behind…
That's exactly what we needed. Thank the motoring gods for the fifth emergency service #b4b14 https://t.co/MtQZjCJtSo — James Baggott (@CarDealerEd) October 11, 2014
You see what you need when your 1990 Mazda MX-5 Turbo Type-R M Power Sport Edition breaks down is AA men. Four AA men to be precise. They transformed our kettle-like car from this…
To this…
Back on the road. Top down. Stupid MX-5 hats in place. New radiator hose thanks to @AAPresident's troops. Nice #b4b14 pic.twitter.com/CkivfWXExD

— James Baggott (@CarDealerEd) October 11, 2014
Once again the fifth emergency service come to the rescue of Car Dealer. Anyone would think we planned a break down for the purposes of a good feature. Unfortunately we're not that good at forward planning. Because if we were we'd have given the Mazda a far more thorough shake down…
Until tomorrow!
MORE: TOP TWEETS FROM DAY ONE OF #b4b14
MORE: MEET SOME OF THE TEAMS ON BANGERS4BEN