ONLY three days to go! On Friday, the teams will be setting off on the annual Car Dealer Magazine Bangers4Ben charity rally – the event that's raised hundreds of thousands of pounds for the automotive good cause over the years.
This year marks the tenth anniversary of the event and to celebrate, the organisers (that's us!) have planned a very special route with some exciting challenges built in.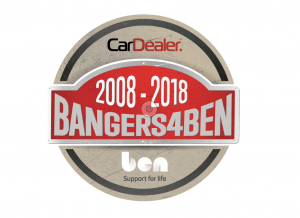 This year's trip will involve four nights away and will finish in a secret location.

The teams will be starting at Brooklands Motor Museum in Weybridge before making a run for the Channel Tunnel and France – then they'll head to Reims.
On day two, they'll cross another border and drive into Germany before stopping for the night in the home of Porsche – Stuttgart.
Day three will take them on some German autobahns as well as some more winding roads, then into Belgium, where they will stop for the night in Bruges. Day four will see the trippers heading to a secret location, to be revealed that morning.
On arrival, there will be Top Gear-style challenges and prizes to be won, before a black-tie dinner to celebrate a decade of B4B!

Last year, we broke records by raising a whopping £59,000 but this year we plan to do even better. Therefore we're challenging each team to raise more than £2,000 from fundraising and the sale of their car.
Rebecca Chaplin, editor of Car Dealer, said: 'We have already heard a lot about how various teams are preparing for Bangers4Ben – and we're sure this year's event will be the best yet. It's too late to enter as all the places have been snapped up but there will be full coverage in the December issue of Car Dealer!'
For all of our teams, preparations are almost complete – check out the video below from GardX to see what it's planning!
MORE: #B4B18: Competition hots up as Automotive Compliance plans to raise the most money in charity rally
MORE: Ben launches mental health training programme for automotive industry