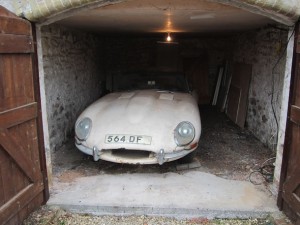 AN early example of a Jaguar E-Type has just sold for over £100,000 – despite being left to deteriorate in a barn for the last 30 years.
Bidders fought tooth and nail over the 1961 Roadster – one of the most desirable of all E-Types – at a recent Bonhams auction.
The car is a very early 'flat floor' 3.8-litre model dating from the first few weeks of production. It is also one of the earliest surviving right-hand drive E-Type roadsters.

Remarkably, it was in completely original condition (albeit slightly unloved) despite covering 65,000 miles from new.
The car caused quite a stir when it was first found, but even the experts at Bonhams auction house were surprised when it sold for £109,020.
Tim Schofield, head of the Bonhams Motor Car Department, said: 'We were delighted with the performance of the E-Type, which eclipsed its £25,000 to £30,000 estimate.
'We had suspected it would do well, given the desirability of the model and the market's ongoing enthusiasm for original, un-restored 'project' cars.

'We had eight telephone bidders on this car but it ended up going to the man in the room who offered the first bid of £40,000.'
The buyer will require plenty of elbow grease (and extra cash) to get the Jag back into top condition – so it's lucky he is said to be one of the top Jaguar restorers in the UK.
'The car is already with its new owner, who is one of the foremost E-Type restorers in the UK and will bring it back to the condition in which it left the factory in 1961,' said Tim Schofield.
'He had been searching for an early E-Type for some time and we wish him many happy hours bringing this car back to its best.'
We think it's fair to say it won't be sporting any Austin Powers-style Union Jack paint jobs, then.