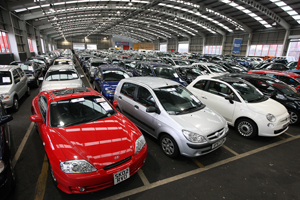 BCA has announced a major business development in the West Midlands, creating around 200 new job opportunities in the region.
The 20-acre Perry Barr, Birmingham site is located between Junctions 6 and 7 of the M6. BCA has applied for planning permission to develop the site as a multi-channel remarking and logistics facility over a 12-month build project due for completion in 2015.
BCA Perry Barr will join company's nationwide network of remarketing centres including existing sites at Walsall and Castle Bromwich.

The new site at Perry Barr will enable BCA to extend its physical and digital remarketing offering and will deliver a range of de-fleet, inspection, appraisal, preparation, refurbishment and logistic services. Physical remarketing services will include two auction halls and undercover viewing for 600 vehicles, with both cars and light commercials offered in a regular programme of sales.
BCA says the additional acreage at Perry Barr will provide it with the space it requires to optimise its existing channels.
There will be customer parking for more than 400 vehicles, cafeteria and business suites, a training centre and a full range of buyer services, including digital bidding facilities.
Around 200 jobs will be created at the centre, ranging from technical, operational and administrative roles, to inspectors and vehicle preparation staff.

BCA managing director Spencer Lock said: 'As the new and used vehicle market expands, we are committed to investing for growth meeting our customers' needs through continuous development of our remarketing services.
'BCA Perry Barr will continue our ambition to deliver first class facilities across our pan-European network and a wide range of channels to market, supported by comprehensive logistics capacity and integrated bespoke digital solutions. All these components are aimed at delivering choice, service and value for money for all our customers.'