BENFIELD, the north-east's largest independent motor group, has launched a new leasing and contract hire business, Rosedale Leasing.
It says the business will provide retail customers and small company owners with more competitive and low-cost leasing rental prices.
Benfield, which supplies more than 12,000 cars to businesses locally and nationally through its fleet division, is taking advantage of its buying power through global manufacturer partnerships, to launch the new premium service – and has taken on an additional five members of staff at new offices on the Team Valley Business Park, Gateshead.

Jason Smith, the general manager of Rosedale Leasing, said: 'We are absolutely delighted to launch this new competitive service which has been tailored to meet the growing demand of individuals and small businesses who value a source of flexible payment options and choice of any make, any model.
'Our new service will offer fully-interactive multi-manufacturer brand lease quotes, without filling in forms and waiting for a call-back. Customers can explore, compare and get access to vehicle information relevant to their requirements directly from their computer, tablet or mobile device.
'Business users may be relatively experienced in their understanding of vehicle leasing, some personal users may need to explore the option for the first time and there is lots of help and information for those considering leasing for the first time.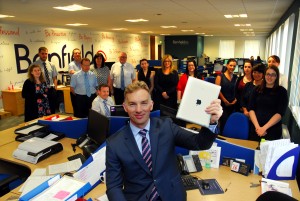 'By using this new service, individual customers are protecting themselves from unforeseen drops in used-car values and also have the added option of including full servicing and maintenance in a guaranteed fixed monthly payment.'

Rosedale Leasing is part of the Benfield Motor Group. Benfield has 30 dealerships across the north-east of England, Yorkshire, Cumbria and south-west Scotland, representing 14 car retail brands and are in the top 20 UK dealer groups.
MORE: Honda are boxing clever at Goodwood…
MORE: Lookers in drive to raise funds for Prince's Trust
MORE: RAC Cars reaches 200,000 milestone
On superunleaded.com – Watch Koenigsegg One:1 Annihilate 0-300-0kph World Record