WINNING a Car Dealer Used Car Award isn't just fantastic for business – they're better than all the rest and you also have a terrific night out at a top event!
That's what William Kirkham, managing director of Targa Florio Cars, which scooped the Dealer Used Car Website of the Year trophy at last year's ceremony, said when we chatted to him this week about its triumph.
The company, which is based near Chichester in West Sussex, was praised for its slick website packed with information about its premium stock. Our awards judges said it uses fantastic videos and photos to show customers what a high level of service they can expect when buying a car there.

Did you have a good time at the awards?
We had a really good time – in fact, it was the best awards we've ever been to. We like the fact that it was a black-tie event. Everything was really well organised. The table maps, where everyone was supposed to sit when you've got hundreds of people going, were all first class. The drinks were flowing, the food was good quality and the service was excellent – THAT is how to run an awards ceremony!
How did it feel to win?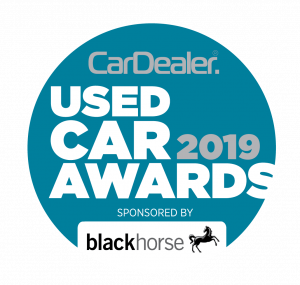 It was fantastic. We ended up getting there late because of the London traffic, so unfortunately we missed the presentation, which was rather gutting, but the year before we won as well for a different award and that was just brilliant. So, it was exciting. We've been to other awards events and they've just been flat and dull. But with [Blackball Media MD] Andy Entwistle there and with Mike Brewer, it gets everybody revved up. So I'd say it's very, very well done.

Did you use the win to gain any publicity and has it helped your business?
Yes, we have. We used the images you supplied on our website. We use one of them on every car we advertise, so we do the traditional front corner shot and the rear, and then a couple of others, then the dealer awards. Although we've had other awards with other organisations, we haven't put them on there. The reason we think Car Dealer's is the most prestigious is because Mike Brewer's involved, and Car Dealer Magazine is very well known, and of course sponsor Black Horse is a massive name in finance – it has the credibility that we want, whereas none of the other awards have that credibility.
Are you entering for this year's awards?
We've already entered! We've entered for about eight classes.
What would you say to dealers thinking of entering?
I'd say definitely go for it! It's a really great evening out. It's a fantastic venue and it feels special – the awards are meaningful.
What do you think winning such an award says to customers?
I think it says as a business you have credibility, because you've got those names behind you. With Black Horse you've got one of the biggest banks in motor finance. With Mike Brewer you've got one of the biggest names, probably second to Jeremy Clarkson, in the motor industry, and Car Dealer Magazine is obviously a specialist magazine for the trade and there aren't too many of those magazines. There are some others but they're very low key compared to Car Dealer. So, all those three factors I think make it a very credible awards ceremony.
The Car Dealer Used Car Awards really are the awards that matter. This year's awards are being held at The Brewery in London on Monday, November 25, with Mike Brewer hosting once again. The deadline for nominations is Monday, October 14, so…
Pictured at last year's event are Wendy Harris, vice-president of European sales at category sponsor CarGurus, Stuart Harvey of Targa Florio's website builder 67 Degrees with Targa Florio's award, and Mike Brewer