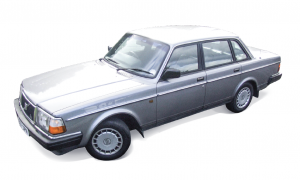 IT'S a cautionary tale from me this month, I'm afraid. And a timely one, too, because hardened traders such as I know the festive season should really be rechristened the 'silly season' for ridiculous buyers coming out of the woodwork.
Honestly, though, I thought I'd seen it all… but I hadn't.
Regular readers of this column will know I'm a sucker for something a bit different. Last month, that something was a 1991 Volvo 240 saloon in battleship grey, which came with a full service history and had covered around 55,000 miles from new.

It was original, right down to the headlight wipers and those lovely Chesterfield-style buttoned leather seats, which made driving the leaf-sprung Volvo akin to bouncing down the high street on your living room sofa.
The car had had just two owners from new, and was traded in against a Ford Fiesta, its elderly female keeper deciding she really needed something a little smaller and easier to park as she entered her more mature years.
'Ooh,' I thought. 'This'll do quite well on that well-known internet auction site.'
So, I stuck it on that well-known internet auction site and waited for the bids to roll in.

Sure enough, they did. Within 24 hours, the Volvo had leapt from its £350 starting bid (and, dare I say, stand-in value) to four figures, the virtual hammer finally falling a week later, just shy of £1,400. A clear grand's profit is good for any car, let alone a cheap part-exer, so needless to say, I was quite happy with that.
What made me distinctly unhappy, though, was my subsequent experience with the 'buyer'. After emailing me to ask if he could collect the car at 8pm on a Monday (which was fine, as it was at my house), I waited in for said purchaser to arrive. 8pm came. Then 9pm. He finally turned up on my doorstep at 10pm, except there wasn't just him.
The winning bidder, a small chap, was flanked by a pair of heavies, a fourth man lurking just out of sight behind him, hands thrust in pockets.
They then proceeded to try to beat me down on price to £300 (without even looking the car over, I hasten to add), telling me I was 'taking the p*ss' to expect £1,380 for it despite that being the winning bid.
He then went on to tell me he'd driven 90 miles to come and collect the car and he wasn't happy with my price, and that I owed it to him for wasting his time to let him have it for what he valued it at instead. Naturally, I told him and his hideous henchmen to Foxtrot Oscar, because I'm big enough and ugly enough to look after myself and I had forgotten to feed Fluffy, my beloved Rottweiler, who was happily taking a well-earned pee against the wheel of their BMW 7-Series.
It didn't stop them trying to get me to cough up their petrol money 'back to Slough', though – as if I had wasted so much of their time that they deserved it.
I found the whole experience utterly perplexing, until I thought about it later. Why would four young-ish blokes in a recent model BMW 7-Series want to buy an ancient Volvo 240, and why would they adopt such a determinedly threatening approach without even looking the car over or taking it for a test drive?
The answer is simple – and actually quite frightening. Who, normally, would be the typical owner of a 55,000-mile-from-new Volvo 240?
The answer is exactly the type of person who traded it in to me. She was a lady in her early 70s called Rosemary, who could barely see over the steering wheel and filled the car's ashtray with lily of the valley pot pourri. Or in other words, the kind of person who would not just be unlikely to stand her ground, but would be so utterly (and understandably) terrified by the whole ordeal that she'd probably allow herself to be bullied into letting them have the car for next to nothing, just to get rid of them.
Alas, this appears to be a scam that's doing the rounds. A fellow trader had a similar experience when he tried to sell a 24,000-mile Honda Accord the other week, while another guy I know took a Renault Clio on sale or return for a recently-widowed neighbour the other week as she was, simply, too scared to sell it based on stories she'd heard from her own social groups.
It disgusts me, because I hate bullies. And that's why I wanted to share it here – it might be the season to be jolly, but let's not forget that it's also the season to respect one another and look out for those around us who may be more vulnerable than ourselves.
Merry Christmas!
Who is Big Mike? Well, that would be telling. What we do know is that he's had 30 years in the car trade and picked up some terrific tales along the way.