A LUCKY family from south Wales have won two tickets to this year's Europa League final in Azerbaijan thanks to Kia dealership Gravells in Kidwelly.
The competition was run alongside the UEFA Europa League Trophy Tour, which encouraged customers to donate old pairs of football boots that will be given to Syrian refugees in Jordan.
Loyal Gravells customer Sarah Bailey, from Kidwelly, won the competition and has given the tickets to her sports-mad husband, Andrew, to take their 14-year-old son Owen to the big match between Chelsea and Arsenal in Baku on May 29. The prize, which also includes transport, hotel accommodation and food, will see them away for four days.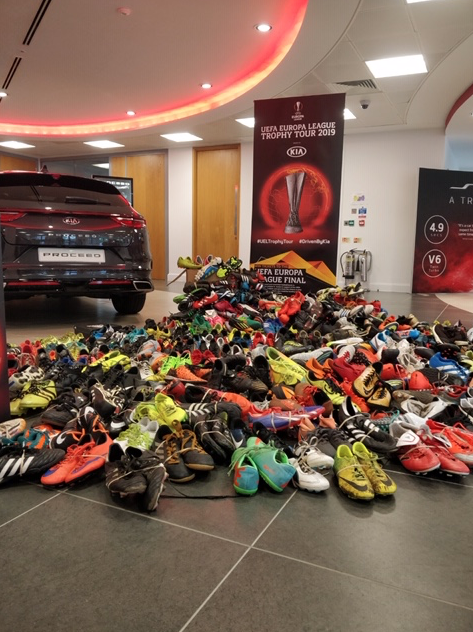 In partnership with the UEFA Foundation for Children, fans and players across the UK donated more than 1,000 pairs of used and unwanted boots, which will be taken by Kia to the Zaatari refugee camp.
Sarah said: 'We are absolutely thrilled to have won the tickets for the Europa League Final. Andrew is a huge sports fan and a lover of football, so he was overwhelmed to find out that we had won. He will be taking our son with him to enjoy the game, who is incredibly excited to be travelling to Baku!'
Jonathan Gravell, managing director of the Gravells group, said: 'We want to say a huge thanks to all those who donated their football boots for such a fantastic cause.
'We hope that the boots will bring some excitement and joy to the children in the refugee camps in Jordan and will give them the opportunity to get involved in the beautiful game. Congratulations to the Bailey family for winning tickets to the final – let's hope it's an exciting game!'

MORE: Kia launches dual-language surveys at Welsh dealerships
MORE: Kia increases storage capacity as it aims for 100,000 sales a year