KIA has become the first manufacturer to offer dual-language customer surveys at its Welsh dealerships.
It's the first step the manufacturer has taken to offer dual language among its network.
Recognising that 19 per cent of the population in Wales speak Welsh, according to the 2011 Census, the surveys are now available in both languages at the eight Kia dealerships in the country to give customers the chance to respond in the language of their choice.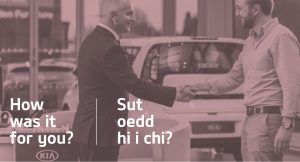 David Hart, customer experience manager at Kia, said: 'When you visit Wales the first thing that strikes you is the fact that all the road signs are in both Welsh and English, and if you telephone a Kia dealer in Wales they will answer the phone with both "hello" and "shwmae" . It seemed obvious that we should also offer our customers the same choice when responding to our surveys.
'As part of the Kia Customer Experience Programme, we send customers digital surveys to gauge their experiences of the dealership itself, the car they have bought and the level of service they have received. It seemed only right that we should offer this in both languages.'
Jonathan Gravell, managing director of Gravells, which has four dealerships across south Wales, said of the dual-language surveys: 'It's great to see Kia embracing the wonderful Welsh language. Our customers are important to us, and to be able to communicate to them in the language of their choice celebrates the family-like care that they can expect from the dealerships and the brand.'
MORE: EXCLUSIVE – Mazda MX-5-rivalling Kia GT4 Stinger could be here by 2021

MORE: Stonic could be the car to take Kia over 100k sales a year in UK
MORE: Top Kia dealers rewarded for outstanding achievements
On SuperUnleaded.com: The best bits of Ron Dennis's McLaren