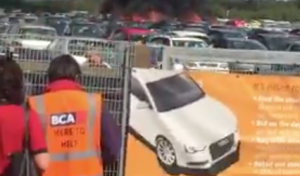 A PLANE has overshot the runway at Blackbushe Airport in Hampshire today – where a popular car auction is held – and crashed into parked cars.
There was an early unconfirmed report that the four people in the aircraft died in the incident.
One eyewitness said the plane overshot the runway as it came in to land, clipped a fence, flipped over and ploughed into parked cars at the auction house, and burst into flames.

The fire service at currently at the scene, along with police and ambulance crews.
The auction site, run by British Car Auctions, is just off the A30.
Another eyewitness said the plane seemed to be travelling too fast and too low as it came in to land and that its engines 'were screaming'.
It is believed the aircraft involved was a business jet. The ambulance service was reporting it understood there had been four casualties.

Eyewitness Andrew Thomas told the BBC: 'We saw the plane in flames, and that quickly spread to the cars around it.
'The cars are packed very tightly there. When the plane first came down, perhaps four or six cars were on fire, but that quickly spread to perhaps 50 or 60 cars. Every minute or so you could gear another car exploding.
'The airport's small fire truck was there quickly, but the trouble was the cars are packed so tightly. When the fire brigade arrived, they put the fire out quite quickly.'
This is an image of some of the footage taken by a Sky News helicopter at the scene: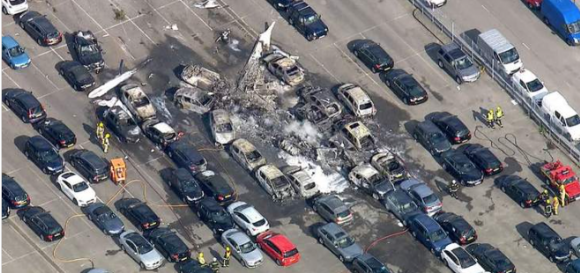 It shows the impact area of the plane on the tarmac, and several damaged and burnt-out cars.
The Farnborough-based Air Accidents Investigation Branch has sent a team to the site.
This video was posted on Twitter by Tubman Thomas (@tubman89):
Anybody can use this video with me credited free of charge pic.twitter.com/0CfLtQa1cu

— Tubman Thomas (@tubman89) July 31, 2015