Car & Classic Auctions has got off to a flying start this month with a number of desirable classics going under the hammer including a Bristol Blenheim S2.
More than a thousand bidders registered in the first week to take part in Car & Classic's first online auctions, hosted on Europe's largest classic car classified website – Car & Classic.
The star of the auctions was a 22-year-old Bristol Blenheim S2, which sold for £38,000. One of the last models to come from the now-defunct British car manufacturer, the Blenheim proved to be a very desirable rarity on the website with plenty of interest.

The model had only covered 62,000 miles since it was first bought direct from Bristol Cars in 1998, with the last owner adding 30,000 of those as he used it as a daily driver.
The new owner has already successfully and safely transferred funds using the escrow service and collected their new classic car (getting a lift to collect the car in a friend's Blenheim creating the unusual photo opportunity below!).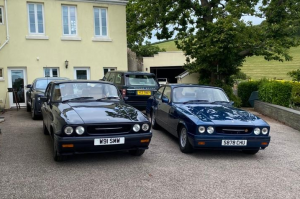 Car & Classic's new online auction platform is making it easier and safer than ever before for enthusiasts to sell their classic cars.
Car & Classic Auctions is the only online auction to include an escrow payment function – this holds funds in a secure third-party account until both buyer and seller confirm they are happy with the sale removing the risks of fraud and large bank transfers going wrong.

For buyers, Escrow eliminates the risk of carrying large sums of money when collecting a car and for sellers, this gives certainty over receipt of funds before discussing the collection of the vehicle.
To avoid 'tyre clickers', Car & Classic Auction requires bidders to register a payment card when bidding.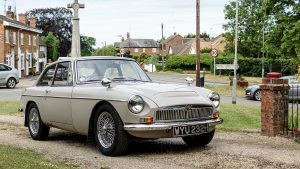 Other star cars to sell in the first week included a 1969 MGC GT which sold for £14,000, a1967 Ford Mustang GTA which achieved £19,250 and a 1976 Volkswagen Camper which is making its way to a new home after making £9,578.
Tom Wood, CEO of Car & Classic, said: 'It's been a superb first week for the Car & Classic Auction platform and proved that both buyers and sellers are still keen to trade some very interesting models despite the current climate.
'The prices bidders have been willing to go to on cars they've never seen in real life shows that there is still real confidence in the market, and our platform gives them both the detailed information on the vehicle and the confidence that they can transact safely using our Escrow service.
'Car & Classic is the cheapest online curated auction in market for sellers charging just five per cent including VAT to our sellers and is 100 per cent free to bidders – this is driving some significant interest with hundreds of vehicles in the pipeline.'