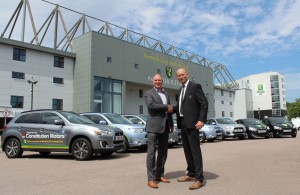 CONSTITUTION Motors has been unveiled as the new official vehicle supplier for Norwich City FC ahead of the club's first season back in the Premier League.
The family-run Mitsubishi dealership, in Constitution Hill, has provided the Carrow Road club with eight vehicles from the Mitsubishi range, including the UK's best-selling plug-in hybrid vehicle, the Outlander PHEV.
The vehicles will be used by the commercial teams and by staff at the club's Colney Training Centre. Constitution Motors has been a partner of the Canaries since 2005 but this is the largest ever deal between the two sides.

Steve Hobin, Senior Partnerships Manager at the club, said: 'We are absolutely delighted to welcome the Constitution Motors team back to the football club. We are thrilled to have eight vehicles, including the Mitsubishi PHEV, which will drive efficiencies and help the environment.
'We will see fantastic fuel efficiencies with these vehicles and over the course of the next year we are expecting to see significant savings as a business.'
As part of the deal, Constitution Motors and Mitsubishi branding will be seen around Carrow Road during the 2015-2016 season.
Ian Coates, Managing Director at Constitution Motors, said: 'The club is back where it belongs in the Premier League and we are happy to be back with them. I'm a fan as well as a partner and I'm very keen to see the team do well, so we're delighted to provide this support.'

Our picture shows Ian Coates, Managing Director of Constitution Motors in Norwich (left), and Steve Hobin, Senior Partnerships Manager of Norwich City FC, with the fleet of Mitsubishi vehicles outside Carrow Road.
MORE: VW's £100,000 fuel-efficient super car bought by dealership
MORE: Lookers staff put their heart into charity challenges
MORE: Dews Motor Group offering pioneering out-of-hours email support service
On SuperUnleaded.com: Rally Competitor Comes Within Inches of Dozy Tractor Driver