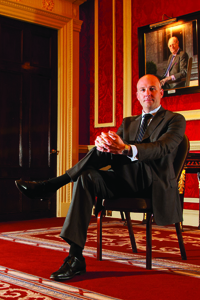 CRAIG STEVENS, group director for digital marketing services at Trader Media, has left the group 'to pursue other commercial interests'.
Stevens joined Trader Media over 16 years ago – functioning as a general manager for the group's national magazine division, and eventually worked his way up the company to oversee its digital arm.
It's there that he oversaw the transformation of AutoTrader from print to digital, and was 'instrumental' in the development of Trader Media's digital marketing business: Razsor.

Stevens also represented Trader Media Group at many prestigious industry events and and conferences, including our Automotive Influencers feature in February.
Until a permanent replacement is appointed, TMG's UK sales director for franchise, Sharon Randall, will sit on the Trader Media executive board in Stevens' absence.
Zillah Bing Maddick, interim CEO of Trader Media Group, said: 'Craig's contribution to the success of Trader Media Group over the last three decades has been immeasurable. His leadership has driven the development of the Group, despite really tough market conditions. He has leaves a strong legacy from which we will build as we look forward to the challenges of the next few years.'