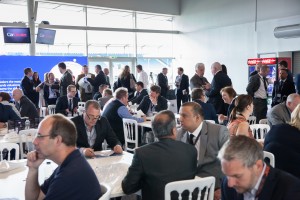 WE did it! Yesterday's Car Dealer Conference & Automotive Expo at Silverstone was a huge success.
With more than 70 exhibitors filling our two expo halls, keynote speeches from Google, Twitter and many more, and a series of fascinating workshops on subjects crucial to the motor trade, the day has universally been hailed a triumph.
Manufacturer bosses Lance Bradley (Mitsubishi), Nick Connor (Volvo), Andy Barratt (Ford) and Tony Whitehorn (Hyundai) took part in an insightful question-and-answer session and there was input too from some of the UK's leading dealers: John Tordoff (JCT600), Ken Savage (Perrys), John O'Hanlon (Ridgeway) and Gavin Ruddick (Lookers).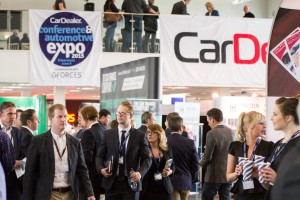 And there was no shortage of fun either, with a Scalextric challenge run by the WMS Group and a pool table speed contest on the Blackball Media stand.
What's more, a few famous faces joined us in the fabulous surroundings of the famous Northamptonshire race circuit. Tiff Needell and Mike Brewer were both on hand to chat to fans.
There was so much going on, it was tricky for our delegates to fit everything in! Also taking place were special sessions for women in the motor trade and an awards ceremony for the most influential dealers on Twitter.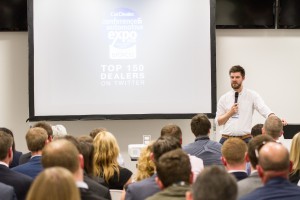 With our hashtag #CDX15 trending on the social media site, the web was buzzing with news from the event – the biggest ever organised by Car Dealer Magazine and its parent company Blackball Media.

Watch out for more news from #CDX15 here on the Car Dealer website and of course in future editions of the magazine. In the meantime, check out some of the feedback we received below.
And make a note in your diaries: next year's Car Dealer Conference & Automotive Expo will take place on Tuesday, May 24, 2015 – again at Silverstone. Exhibitors will be able to book stand space soon.
Just back from @CarDealerMag Expo #CDX15. Very well done guys. And thanks to all the #dealers who came to see us and @PhilipN_CAP workshop

— CAP (@CAPAutomotive) June 9, 2015
Had an amazing time at #CDX15! @CarDealerAndy @CarDealerMag @CarDealerCliff @CarDealerDunc @CarDealerEd – I <3 You! pic.twitter.com/0pqEsQ9BaR

— Criena (@CrienaLDavies) June 10, 2015
A big thank you to @CarDealerMag who put on the most amazing expo this year- Just awesome Highlight of the year so far Just amazing #CDX15

— Alexis (@PrestigeDiesels) June 10, 2015
Thanks to all our Tweeters at the Top 150 Dealers on Twitter session. We love you all. #CDX15 pic.twitter.com/9paGNxB9KC

— Car Dealer Mag (@CarDealerMag) June 9, 2015
8am this morning a whole clan of GForcers were up at Silverstone ready for #CDX15 pic.twitter.com/rpu5F7acz0

— GForces (@G_Forces) June 9, 2015
Thanks @CarDealerMag superb #CDX15 yesterday. Very well done guysngals! pic.twitter.com/t3GjRexTH9

— CarCliq (@CarCliq) June 10, 2015  
#CDX15: We enjoyed a fantastic day yesterday at Car Dealer Magazine's Conference & Automotive Expo at Silverstone, we also featured in the 'Top Dealers on Twitter' awards ceremony.

Posted by Stoneacre Motor Group on Wednesday, 10 June 2015