Classic car dealership Taylor & Crawley's owner had a nasty surprise when he returned home after a business trip this weekend to find his rare £500,000 Porsche missing. 
David Clark returned home on Saturday, February 17, to find that his yellow 1973 Porsche Carrera 2.7 RS Touring, one of just 1,580 in the world, was gone.
It was stolen from an underground car park in Pimlico, Central London, although currently it is unknown exactly when the theft actually took place.

Clark told Car Dealer Magazine: 'I don't know when it went missing because it had been there for a while. I last saw it several weeks ago, because I've been away doing races and other bits around the world.
'I'm just waiting for the police to take a look at the CCTV.'
Clark estimated that his car was worth upwards of £500,000, though similar examples have sold for over £600,000 at auctions in recent times.
He has owned the Carrera RS for 'about a year', and says that the car was not a future investment, but a purchase made for driving pleasure, calling it 'a really, really lovely car'.

Clark believes the thieves knew the significance of the car, after conversations with friends in the industry.
'I've asked around, and the consensus is it was likely stolen to order,' he said.
'I think these people are pros. One guy I spoke to knows all about this and he said it was probably a professional thing and that I had no chance. They're just too good, whether it was an hour, a day, a week or more.'
Clark, a successful businessman in many facets including aviation and motorsport, has owned Taylor & Crawley for more than 30 years. Clark is an avid historic racer, with iconic cars such as the (recently sold) McLaren F1 GTR and Aston Martin DP214 in his collection, and was a director at McLaren from 1994-1998.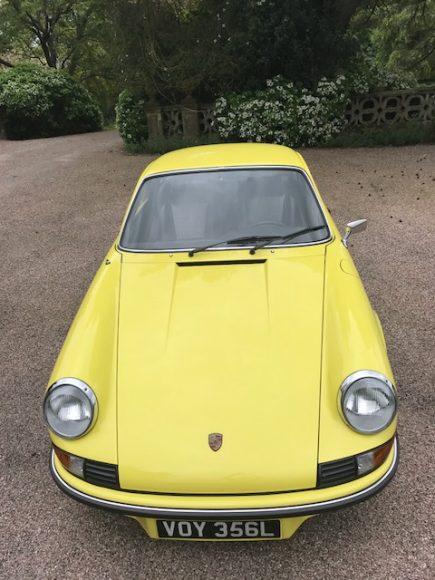 The Porsche's number plate is VOY 356L, with the chassis number 9113601175. As per a Silverstone Auctions listing of the car from a previous ownership, the engine number is 6631147. As the car was initially sold in Germany, it is left-hand drive.
Porsche specialists and the public alike should keep an eye out for any suddenly available parts, or indeed, an unfamiliar Carrera 2.7 RS in their area.
Clark has said that a reward will be granted to anyone who can help him track down his beloved Porsche.
MORE: Planning permission granted for new Porsche Centre in Lancashire
MORE: First Drive: Porsche Cayenne
MORE: Preview pop-up Porsche shop to open at Bluewater
On Workshop Magazine: Greatworth Classics to expand Porsche engine facility