DELIVERY drivers are a vital part of any smooth-running dealership. However, there are a couple of golden rules they should observe…
Firstly, when dropping off a car, make sure it's at the right address, and secondly, if you manage to break rule one, try to ensure the wrong address isn't a national newspaper journalist's.
Earlier today, one drop-off mistake was highlighted to thousands of people on Twitter when former Auto Express and Top Gear editor James Mills found a BMW 1 Series on his drive, its key through his door and an accompanying invoice.

Showing the total figure of £895.29 for work from Cooper BMW Tunbridge Wells, Mills explains: 'This is the sort of moment every driver dreads, when you get a bill for that amount of money.
'There's the car, and happily it's not my car. Here are the keys. That car was put on my drive, the keys were posted through my letterbox, complete with an invoice– and it's not mine! It's come to the wrong address and they've gone.'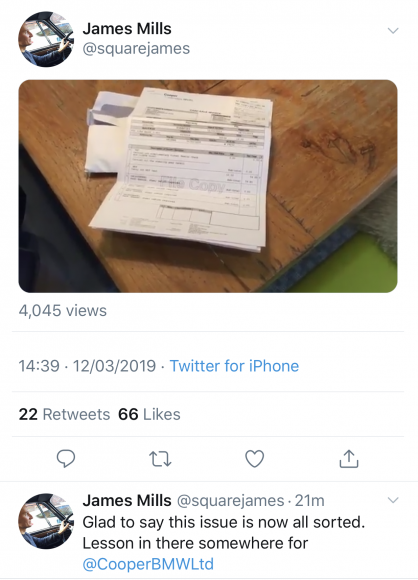 The tweet has since been removed but Mills did reveal that an hour later the issue had been sorted.
He ended the video by saying it was lucky he was an 'honest person'.

Car Dealer Magazine contacted the dealership but it declined to comment.
MORE: Pendragon annual results reveal £44.4m loss in 2018
MORE: Infiniti withdrawal will see UK production end and dealerships close
MORE: Tesla backtracks on dealership closures and price drops