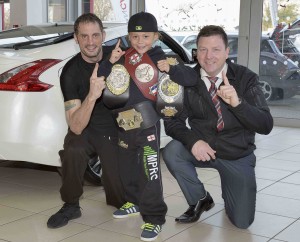 CHILDREN in Bristol who are part of a kickboxing squad will this year benefit from sponsorship from a car dealership in the city.
Wessex Garages on Pennywell Road has supported Cobra Kickboxing for the past few years and will continue to help the club throughout 2015.
Terry Thurgood, general manager of Wessex Garages, explained: 'We've helped the gym in the past with new flooring and have also contributed towards the children's gloves, head guards and transportation needs. We're delighted we can continue to support them.

'As well as continuing to support the squad we'll also carry on sponsoring eight-year-old Tiah Ayton. She has won a number of titles including an area title, two English titles and a European belt. Tiah is a talented kick boxer and we're thrilled to be helping her sporting career by giving her a helping hand with her equipment.
'We also provide Cobra Kickboxing with transport for tournaments and recently gave the club a car to use so they could take three of its kick boxers to compete for European belts in France.'
Neil Walker, owner of Cobra Kickboxing in Kingswood, explained: 'We would like to say a huge ''thank you'' to Wessex Garages for its continued support. It is very much appreciated.'
Wessex Garages is a privately-owned company that has outlets in Bristol, Cardiff, Gloucester and Newport. It specialises in new and used car sales across South Wales and the South West.

MORE: Rogue Jaguar dealership jailed for five years
MORE: Fast food chain's CEO will take the reins at Halfords
MORE: Familiar faces launching a new trade-to-trade website
On SuperUnleaded.com: When things go badly wrong in the workshop