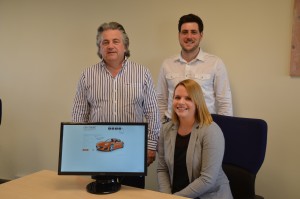 THE former management team of the biggest online trade-to-trade service is launching a brand-new car trading platform.
The trio – Kevin Watson, Laura Cannon and Gee Pugsley – are well known to dealers, as they managed Autotrade-mail in West Sussex.
They left when owner Auto Trader decided to move its sales and service operations up to its office in Manchester.

But now they're back – and heading up a brand-new online site www.cartotrade.com, which goes live at the end of May.
Watson, one of the founders of cartotrade.com, says: 'The decision to regroup and develop our own proposition was a very exciting one.
'The combination of our experience and the encouragement from our friends within the industry asking us to "do it again" only reinforced that it's the right thing to do.'
He says cartotrade.com's ethos is very simple – to create a friendly, independent, service that helps dealers buy and sell trade stock quickly and maximising trade profit.

The site will run an 'invite-only policy' with a strict vetting process which, he says, will generate a 'club feel' while maintaining the integrity of the website and security for its members.
Cannon says: 'Being independent allows us to have purely dealer-focused objectives, which means it won't be about having the most dealers to satisfy revenue targets, it's the quality of the dealers that's important. We won't artificially enhance our stock volumes by using feeds from other remarketing sources. A car on the cartotrade.com website will be available to purchase, and the seller will know about it when a buyer contacts them.'
Gee adds: 'While our website will provide a back-to-basics approach, we are very excited to be able to introduce some unique initiatives. We have always been innovators in this field, so it will be wonderful to come to market with some completely new features, all there for the dealer's benefit.
'Our manifesto will cement our commitment to serving the industry with the dealers' interests at heart – all will be revealed very soon!'
The cartotrade.com team will be calling hundreds of dealers over the next couple of months, but car industry professionals can pre-register their interest to have a free trial by visiting www.cartotrade.com
For further information call 01243 772200.
MORE: Turn off your engine or face a £20 fine
MORE: Download the new edition of Car Dealer magazine to your iPad – at 164 pages, our biggest ever! And it's FREE!
On superunleaded.com – Four Of Our Favourite Porsche Cayman GT4 Road Tests