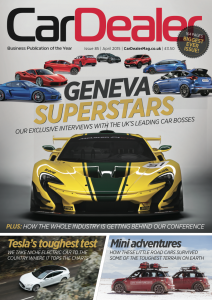 THE latest issue of Car Dealer Magazine – the biggest we have ever published at 164 pages – is ready to be downloaded to your iPad – FREE of charge.
Issue 85 of the Best Business Publication of the Year is packed with not-to-be-missed features, plus the very latest news and views from the automotive industry.
We sent a team of reporters to this year's Geneva Motor Show, where we chatted to manufacturer bosses such as Mark Ovenden of Ford, James Wright of Nissan and Lance Bradley of Mitsubishi. Their views on the current state of the car market – and the plans they have in the pipeline – make fascinating reading.

Also, you can find out how James Baggott got on when he tried to catch up with the participants of the world-famous Dakar Rally in a standard Mini Countryman; and see how our reporter Rebecca Chaplin and colleagues fared when they embarked on an epic road trip in a Tesla Model S.
Also in issue 85:
With Big Mike, the latest SMMT registration figures, plus road tests, finance news and a fascinating profile of the award-winning Prestige Diesels of Portsmouth, issue 85 of Car Dealer is not to be missed!
The iPad app is completely FREE to download and subscribe to.

MORE: Almost one in four adults is thinking of buying a new car
MORE: New Infiniti centre to open in Kent later this week
MORE: Lookers employee on 'Big Drive' challenge to Barcelona
On SuperUnleaded.com: This Nurburgring biker video will make you feel a bit sick